Learning doesn't stop when the bell rings. This is why we at Kahoot! are always on the lookout for ways to make learning awesome outside the school hours, not only in classrooms.
With this in mind, we launched our new mobile app and our challenge feature letting teachers assign kahoots as homework. Learners play challenges in their own time, get instant feedback, while teachers can track their progress in real time. Parents don't want to miss out on the fun either: we know a lot of learners challenge parents with their homework kahoots.
We want to make it as easy as possible for teachers to assign kahoots as homework. And we thought it couldn't be any easier than sharing it directly with Remind, a platform where millions of educators communicate with students and their parents. Our friends at Remind are just fantastic. They solve a big issue (and do it elegantly) – connecting teachers, students and parents and helping them communicate efficiently after class.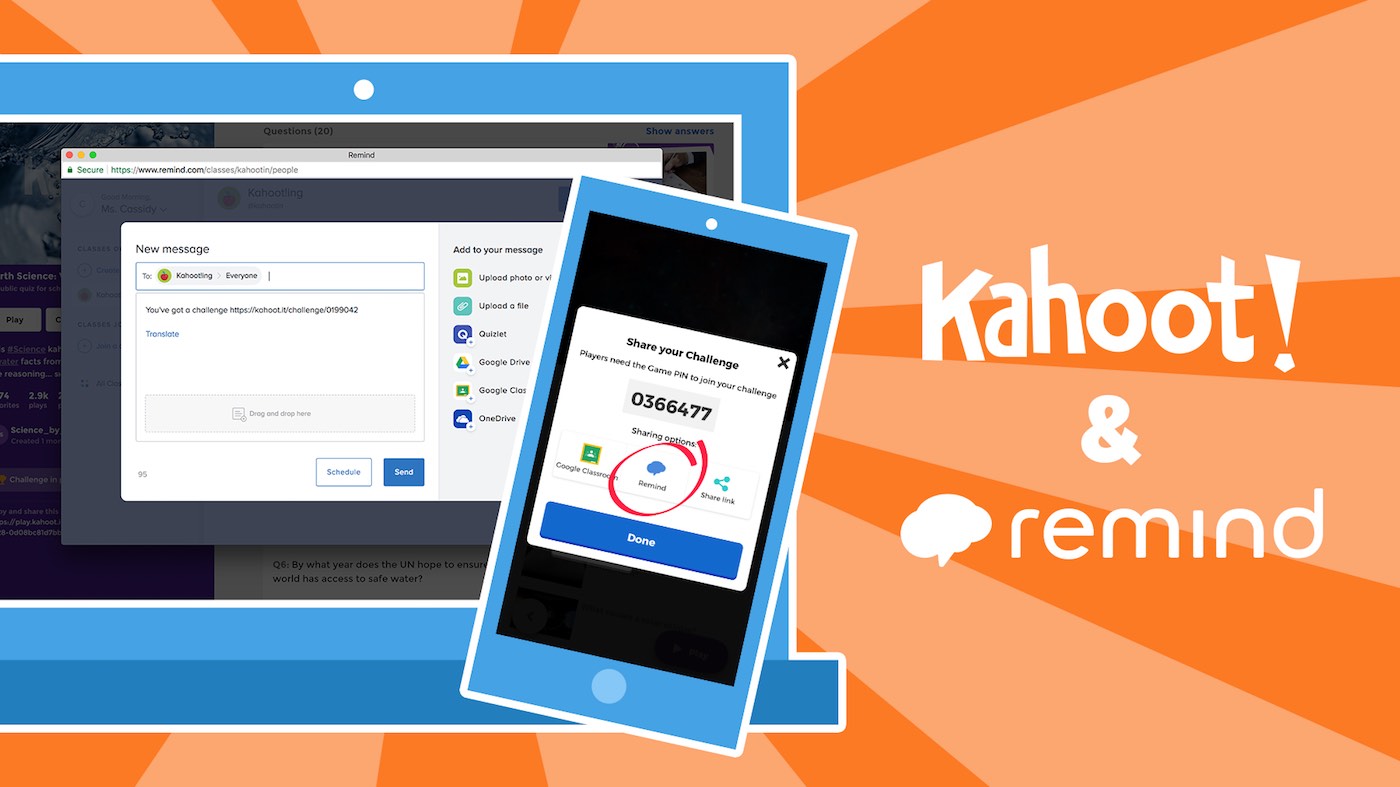 Integrating Kahoot! with Remind looked like a natural step to bridging the two platforms where learning and comms happen. Our new "Share on Remind" button will give you a simple way to assign Kahoot! challenges as homework to your class so students can revise and repeat content through games at home – while having fun at the same time!
How to share a Kahoot! challenge on Remind:
You can create a Kahoot! challenge both on the web and in our mobile app. On the web, log into your account, open a kahoot you'd like to assign as homework and hit Challenge. It's quite similar in the app: log in, open a kahoot, tap Play and Challenge friends on the next step.
Both on the web and in the app, the next step is adding the due date you want your students to finish it by. After you hit Next, you'll see an option to share the challenge Google Classroom and, now, on Remind.
You will need to be signed into Remind to take the next step. Then, you can choose a class and draft the message you want to include with your announcement. Clicking Send will instantly send your Kahoot! challenge out to your class.
Here is a quick video showing how it works:

Kahoot!'s mission is to make learning awesome and also to help teachers extend the learning experience beyond the classroom. I hope you'll like our new integration with Remind will help you make homework awesome and get on with the challenges!