Powering up your kahoot questions with relevant images is one of the main ingredients for making a kahoot awesome. For example, an image can complement a question, contain a clue or, on the contrary, trick players and test their attention. In all these scenarios, images make the game more engaging and content – more memorable.
We know it can be time-consuming to find a high-quality image for every question. And we have a solution that will save you tons of time: our new, built-in image library (provided by Getty Images). In our tests, using the image library helped to create kahoots 3 times faster on average, compared to finding images on the web and uploading them manually.
Tap into our the extensive library to find a nice shiny image in seconds! For business folks on Kahoot! Pro there are millions of images to choose from.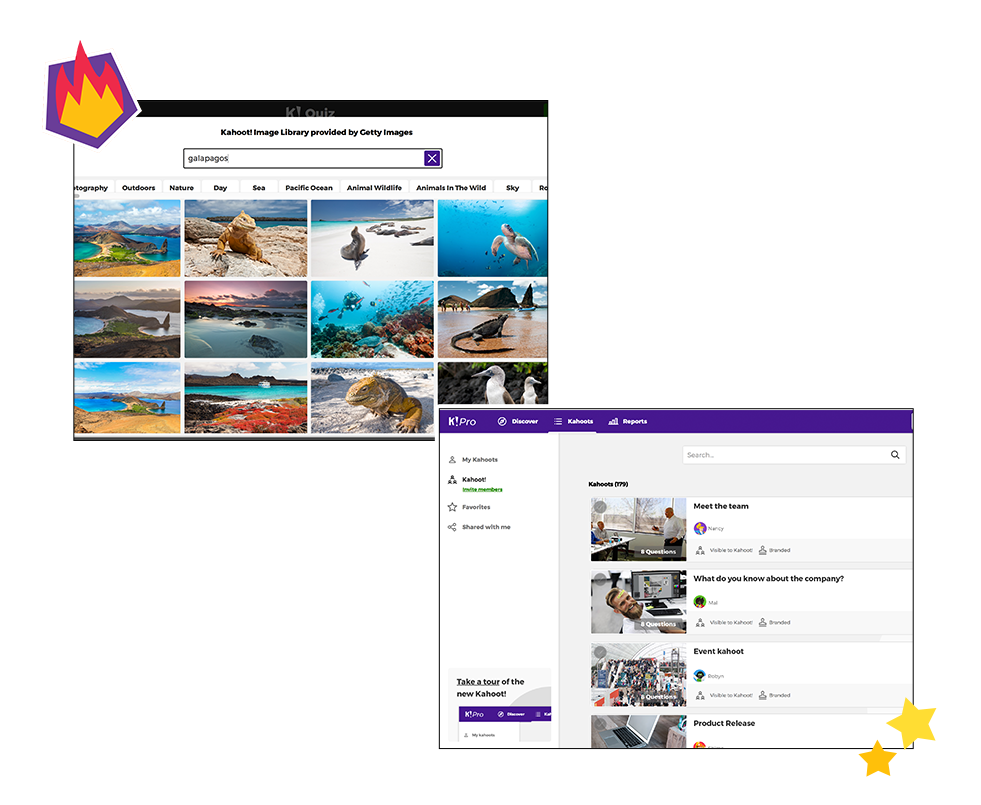 5 reasons why the Kahoot! image library is awesome
Time saving: use 3x less time creating an engaging kahoot with images.
High quality: all images in the library are high quality, which will make your kahoot look really professional.
Extensive: from celebrity photos to historical illustrations, you can find a relevant image matching different topics, or use one of the autosuggestions based on your kahoot content.
Worry-free: images are royalty-free, which means you can use them in your kahoots as much as you want without the need to pay anything extra.
Convenient: credits are added automatically for every image you add to your kahoot, so you don't have to worry about finding the original source and adding it manually.
How to use the image library in Kahoot! Pro
When creating a new kahoot, click Search image library to select a cover photo/ Keywords from the kahoot's title will be auto-suggested for you. Click to see a selection of suggested images!
You can further refine your search by selecting one or more of the suggested tags.
To remove the current search, click X in the search field.
Type a new search query to continue.There are lots of choices here for any topic! Select an image and it'll be automatically added to your kahoot.
Similarly, you can find images for each of the kahoot questions.
So, if you use Kahoot! in your company, there's yet another reason to upgrade to Kahoot! Pro without delay!
Teachers and students can access 2,000 new images
As a teacher, student or with a Kahoot! account for personal use, you get access to an updated collection with 2,000 images that will make your kahoot shine!
How do you use images in your kahoots? Have you tried out our built-in library yet?