Digital tools are used more and more commonly at school these days. Not only can students use them in the classroom to get their work done, but their teachers can too. One of the tools that my learners and I find really useful is a project management tool, it's a versatile task and project planning service. Students can use it to plan their work on upcoming projects. Teachers can use it to plan out their quarter, semester, and year! You never have to worry about where you left your planbook because the project tool is accessible from all devices.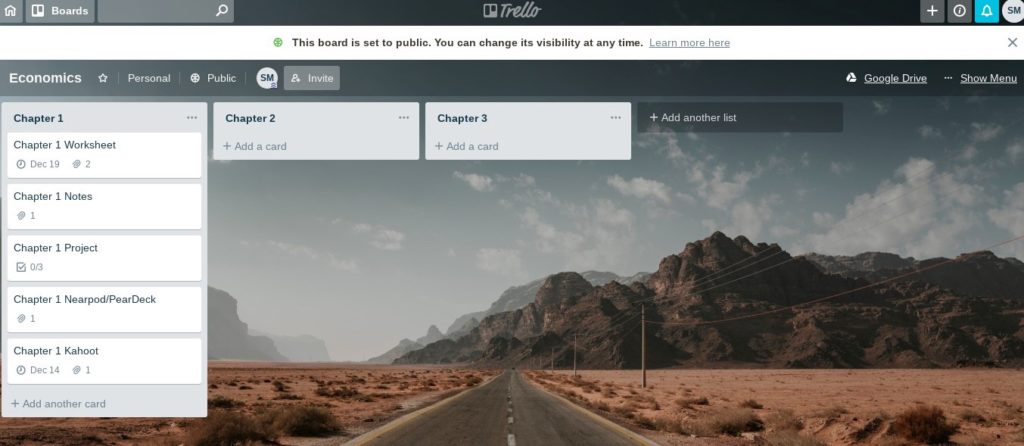 Plan kahoots and other assignments for each class
The project tool consists of boards, lists, and cards. In planning your classes, simply create a board with the title of one of your classes, let's say Economics (as seen above in the graphic). Then, simply create a list based on a particular unit, chapter, or topic. As shown above, I created lists based on chapters. Then, I created cards that represent what I plan on doing in that chapter – various assignments and class work. I use Kahoot! regularly to kick off a class and to review content, so I include the link to the relevant kahoot in my task card. Simply clicking on the link takes me right to my kahoot without having to exit my planner.
Get things organized in one spot
For me, the project management tool is the one stop shop for my classroom, including content and practical assignments for students. Instead of hunting around for a presentation, notes, or class work, the tool allows for the insertion of all class business directly into the app. I simply click on a link and I'm taken to the appropriate class work. And, being a visual person, it makes it easy to organize and view my lesson plans through its intuitive layout. The cards make it simple to identify what I've done in the classroom and what I'm going to do.
If you're looking for new ways to get more organized, I recommend you find a tool that works best for you and commit yourself to using it, be it a project management tool or some other planning tool. There are many technology apps out there that can help you stay on top of things. Being able to access your planner on various devices will certainly make your life easier, as well as maximizing your Kahoot!'ing experiences! 🙂