Today, we're thrilled to announce that Kahoot! has been selected as a Google for Education Premier Partner. This status is reserved for partners that have demonstrated higher levels of competency and performance, and Kahoot! is all set to join Google for Education on a mission to help teachers inspire curiosity and students to discover and learn together!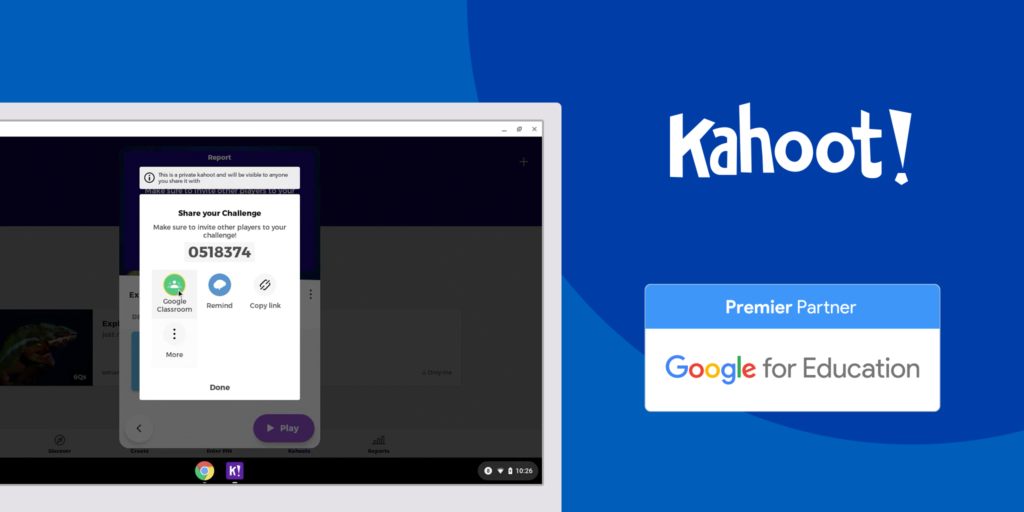 Kahoot! already offers integrations with several Google services. Our single sign-on feature allows Google users to easily log into their Kahoot! account. With our Google Classroom integration, educators can share Kahoot! homework challenges with their students in one click. Watch this video to see how to use Kahoot! on Chromebooks with Google for Education services.
The Kahoot! app can be installed on Chromebooks so that students can join classroom games, complete homework challenges, create their own kahoots, and master content with the smart practice feature.
Kahoot! users are increasingly using Google's suite of products such as Google Classroom and Chrome OS. On the Kahoot! platform, student usage of Chrome OS grew to 33% in 2018 – up from 27% the previous year – and we expect that trend to continue. We're excited to see how our collaboration will benefit both Kahoot! and Google users.
Kahoot! launches on Chromebook App Hub
Kahoot! also announced support for Google's newly launched Chromebook App Hub, a K-12 content discovery experience that offers a new way for educators to easily find exciting activity ideas and apps for their classroom using Chromebooks.
With the App Hub, teachers no longer need to surf the web and spend time researching content that they can use on their Chromebooks. They can come to the App Hub when lesson and curriculum planning and find new, engaging ways to use Kahoot! and other apps in their classrooms. With 30 million students currently using Chromebooks at school, we hope to bring an engaging, interactive Kahoot! experience to every device! Read more about App Hub on the Google blog.
"We're thrilled to have Kahoot as a Google for Education Technology Premier Partner and a launch partner for the Chromebook App Hub," says Karen Greenleaf, Senior Program Manager, ChromeOS. "Kahoot!'s game-based learning platform makes learning fun and engaging, and by being a part of the App Hub, more educators will get inspiration for how to use Kahoot! inside and outside the classroom in a way that also meets the needs of school administrators."
Want to hear more about this news? Kahoot! will be showcased next week at the Google for Education booth at ISTE in Philadelphia! Drop by Google for Education's booth #2200:
9.30-12.30 am EST, Monday, June 24
12 pm-3 pm EST, Tuesday, June 25
Or visit us at the Kahoot! booth #1300 anytime during ISTE to learn more.