Back to school isn't technically a holiday season, but it's certainly a very special time of the year for our teacher community and us on the K!rew, too. Over the summer, we were hard at work getting Kahoot! ready for the new school year to make it even better. We were especially inspired by the feature ideas you've submitted through our forum. Granting wishes feels great, and in the past few weeks we checked off half of your most popular suggestions.
So, whilst you've been making a list – we've been checking it twice – and here's what we've packed for you, all things new and nice! (Psst, even more is coming, keep reading for a sneak peek).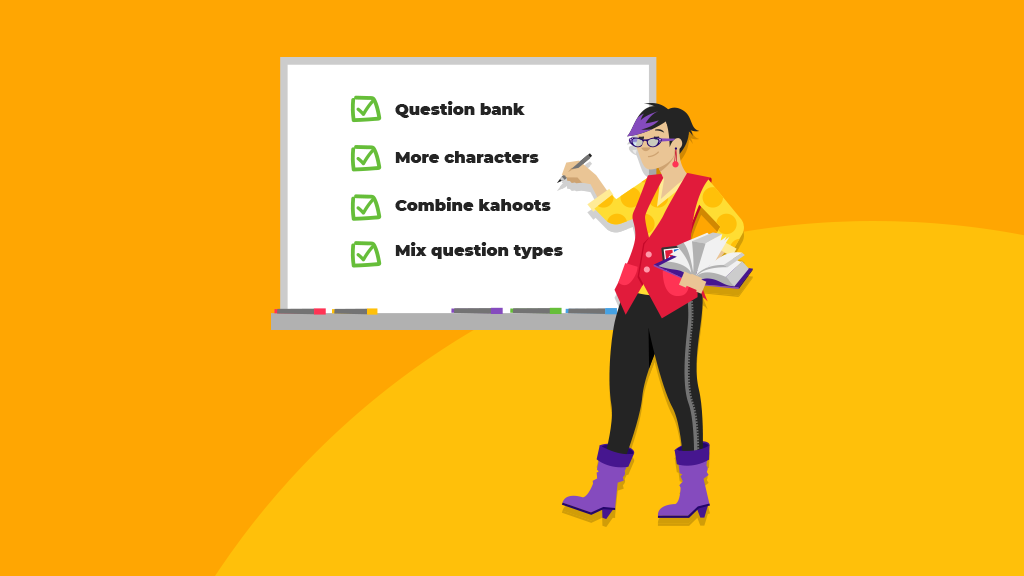 ✅ No. 1 requested feature: question bank
Some of you asked us to make it possible to copy questions from one kahoot into another, while others said it would be handy to create "a pool of kahoot questions". Voila, meet our question bank! This new feature helps you create kahoots up to 3x faster, by being able to choose from half a billion questions from public kahoots, as well as your own games. If you haven't tried it yet, here's a quick tutorial:

✅ Combine multiple kahoots
The second most popular feature request we've seen was the ability to combine multiple kahoots. We know how busy teachers are, so we can imagine what a time saver it can be. And here you go – just select two or more kahoots by clicking the check mark and click Combine in the bar below. Please note the maximum number of questions you can have in one kahoot is 100. See how it works:

✅ Increased character limits
Now you can say more in your kahoot questions! We've extended the character limit for questions and answers. You'll now be able to add 120 characters in questions and 75 for answers, an increase of 25%!
✅ Mix different question types in one kahoot
*Waving magic wand* Wish granted! With a Pro or Premium subscription, you can combine multiple-choice questions, true/false questions, slides, polls and puzzles into one awesome kahoot. By the way, the latter three are brand new question types. Slides are helpful for giving more context, polls will let you collect feedback, and puzzle is a great way to test deeper understanding where players need to order answers into the correct order (this was formerly known as Jumble game type).
✅ Show questions and answers on mobile devices
This is possible in the challenge mode in the Kahoot! app. Assign kahoots as challenges – for homework for example – that students can play at their own pace, viewing questions and answer alternatives on their screens. Read this blog post for a recap on how to create challenges.
✅ New timer option and other back-to-school improvements and new features
If you'd like to give your students more time to think through difficult questions, you can now choose a 4-minute timer option. Especially handy for advanced math questions! We've also improved kahoot creation experience – read more about the creator features we added in August, and stay tuned for a deeper dive into what we released in September.
More in pipeline of our wish-granting factory
Here's a sneak peek of some more features voiced by you, our community, that we're currently working on:
Turn off points or enable double points in kahoot questions;
Delete reports;
New music options;
Print kahoots to be able to hand them out in class;
Add images as answer alternatives.
Your ideas drive Kahoot! forward, and we'd love to hear what other improvements you'd like to see next! Submit your feature requests, or vote up the existing ones here: