Distance learning, including learning online, is a powerful way to reach and engage students even when they aren't in class. Removing the boundaries of a traditional classroom, it provides both educators and students with flexibility and easy access to learning, whether it's part of a planned program or a necessary measure caused by external circumstances.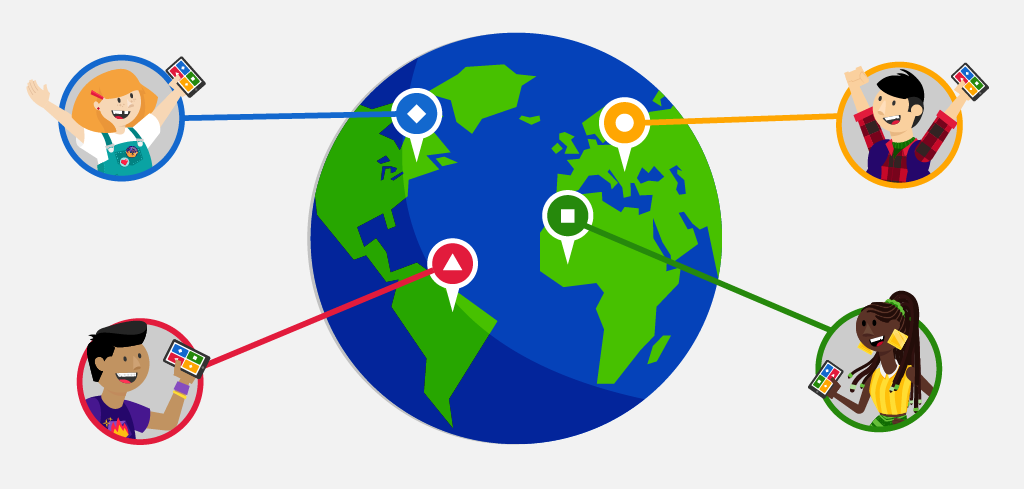 Read on to discover 3 ways you can use Kahoot! to engage students outside of the classroom or download our PDF guide to distance learning.
1. Assign student-paced games in challenge mode
This new way to play Kahoot! extends learning beyond live games and classroom walls and encourages accuracy over speed. Students play at their own pace with questions and answers on their screens, while a teacher sees their progress in real time. Many teachers find this way to play Kahoot! helpful for content review, exam prep, and homework assignments. The feature is available for free for teachers and students.
Here's how you create and assign a student-paced kahoot.
Log in to your account and open a kahoot you'd like to use.
In a web browser, click Challenge. In our app, click Play and choose Challenge on the next step.
Follow the instructions and set a deadline when you'd like the game to be completed.
Turn off the question timer to make the game all about accuracy and not speed!
Copy the link and share with your students – via email, via your LMS, or other messengers. Alternatively, you can share the PIN of the game.
By joining your game via a link or PIN, students play it at their own pace on a computer or mobile device.
Watch this tutorial for more detailed instructions or read more about the challenge mode in this how-to article.
2. Play Kahoot! via video conferencing with students located anywhere
We call this way of playing "connected Kahoot!'ing." In essence, it means playing a live game of Kahoot!, but with students or whole classes in another location – home, different campus, even different country. Participants use Kahoot! with an online video conferencing tool (with screen sharing capability) to facilitate this. Here are the basic tools you'll need:
A webcam, so other participants can see you.
Video conferencing tool, for example, free options such as Google Hangouts, Skype or Zoom.
Ability to share your screen – most video conferencing tools offer this ability.
Students with one device can join by splitting the screen on their device.
to Download our detailed guide on connected Kahoot!'ing included in our certification program to learn more about this way of playing across distance, or watch this tutorial:

3. Encourage students to create and share their own kahoots
Another powerful way to engage students regardless of their location is to encourage them to create their own kahoots based on learning content and host it live or assign as a challenge, as described above.
Students can create kahoots both on computers and mobile devices and use them as a way to present their own take on a topic or result of a research. Empowering students to take the lead, you help them develop from a learner to leader, from a listener to a presenter and facilitator. We call it "learners to leaders" pedagogy, which is one of Kahoot!'s core concepts.
In addition to studying, student-led kahoots also help learners connect and communicate with each other, which is extra relevant in distance learning. For example, language teacher Carol Salva uses student-led kahoots as a way to connect in a classroom with diverse cultural backgrounds.
To further empower educators who have to switch to distance learning during coronavirus outbreak, we're providing free access to Kahoot! Premium to any educational institution impacted by the coronavirus.