Teaching with Kahoot! just got even easier for teachers using Apple Schoolwork, education app for creating and sharing assignments. To give teachers a more seamless experience with Kahoot!, the game-based learning platform, we have added updated support for Apple Schoolwork 2.0.
Apple Schoolwork 2.0, updated last month, makes it even easier for teachers to assign kahoots and track progress, including time spent and quiz scores for the entire class and individual students.
With the Kahoot! app for iPad supporting Apple Schoolwork 2.0, teachers can more quickly find and assign the quizzes and activities they need with the newly updated app activity thumbnails and descriptions.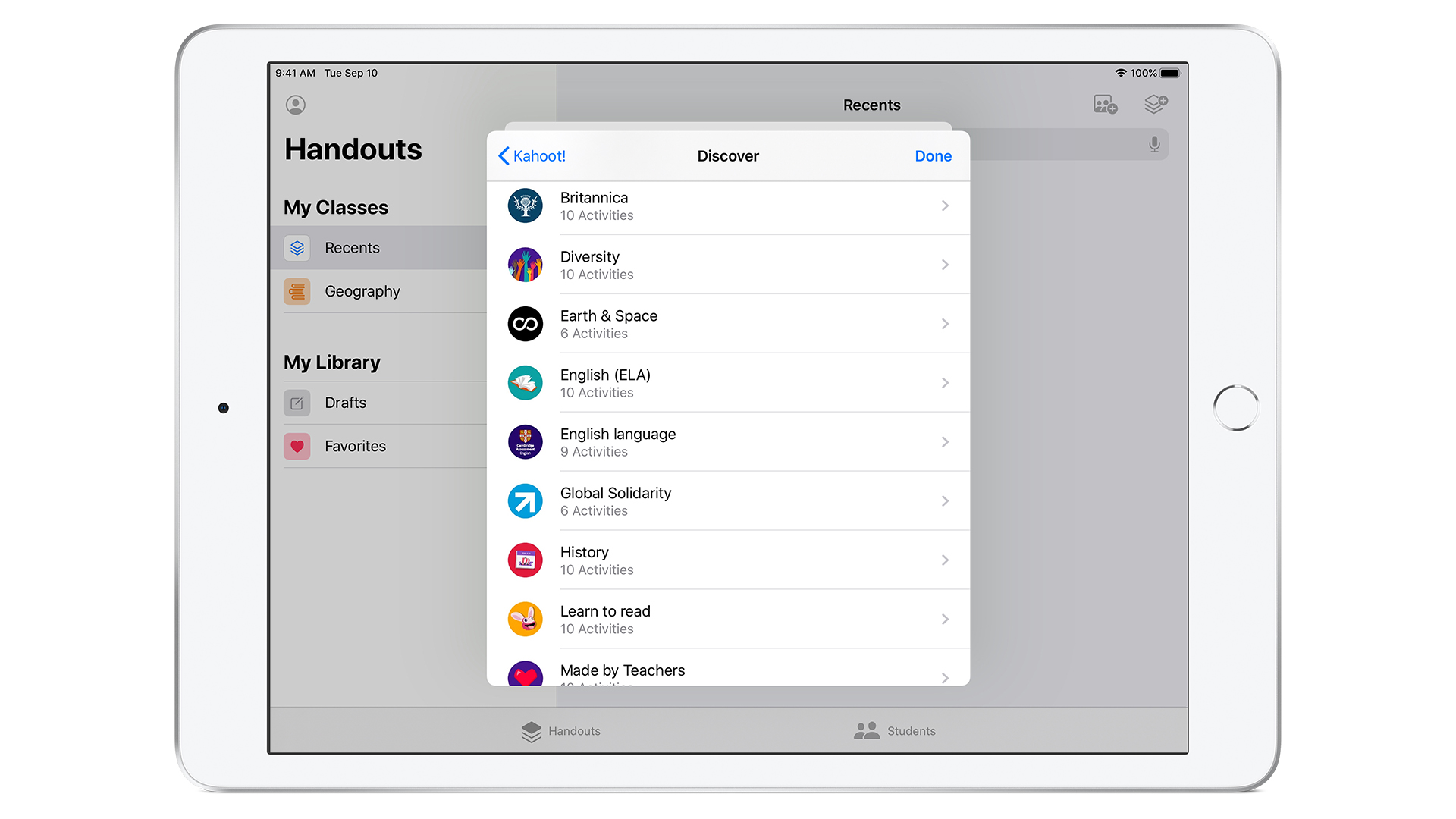 Kahoot! was one of the earliest apps to be integrated with Apple Schoolwork when it launched in 2018. The integration has allowed teachers everywhere to use Kahoot! to keep students engaged while reviewing content, reinforcing learning, and conducting informal assessments.
With the integration, teachers have been able to share student-paced challenges with learners and gain insights into how they're performing based on Kahoot! reports, helping them tailor their teaching to the needs and potential of individual students.
Teachers who want to get the most out of Kahoot! and Apple Schoolwork 2.0 in their classroom can also start with Kahoot!'s newly launched study modes. Students can choose any of the four study modes to learn new content, review lessons, prepare for tests, and study at home independently or with classmates:
Flashcards
Students can use flashcards to learn a new topic, memorize content or review lessons, especially helpful for test prep. Learners flip cards until they feel they've memorized all the correct answers.
Practice
Once students remember all the content covered in the flashcards, they can kick it up a notch in Practice mode where they play a kahoot at their own pace until they've answered all questions correctly.
Test yourself
When learners have gained confidence in their knowledge of the content, they can put it to the test by playing a kahoot against AI players, adding a competitive element. As a reward, learners unlock emotes and collect more of them as they go.
Challenge friends
Students can share a kahoot with their classmates as a challenge, allowing them to study together with peers and stay connected as a class, particularly helpful during distance learning.
Teachers can begin by introducing a topic with Kahoot! flashcards before assigning a quiz through Apple Schoolwork to check what they've learned and assess learning outcomes.
Kahoot!'s added support for Apple Schoolwork 2.0 will be showcased today at the Kahoot! EDU Summit during the Apple+Kahoot: Teaching and learning from anywhere session hosted by Kahoot! and Apple. Join the session at kahoot.com/summit.
For teachers who wish to take advantage of the new support for Apple Schoolwork 2.0, they will need to have the Kahoot! app's 4.0.6 iOS update or newer. Download the latest version of the app from the App Store.