Equip your instruction toolkit for back-to-school
Back-to-school season is always an exciting time for both students and instructors. Filled with anticipation, new beginnings, and fresh opportunities to spark an interest in learning. As you gear up for the start of the semester, you might be thinking about what tools you need in your instruction toolkit. Tools that help you foster engagement and interactive learning, as well as lighten your load and make creating engaging course material easier.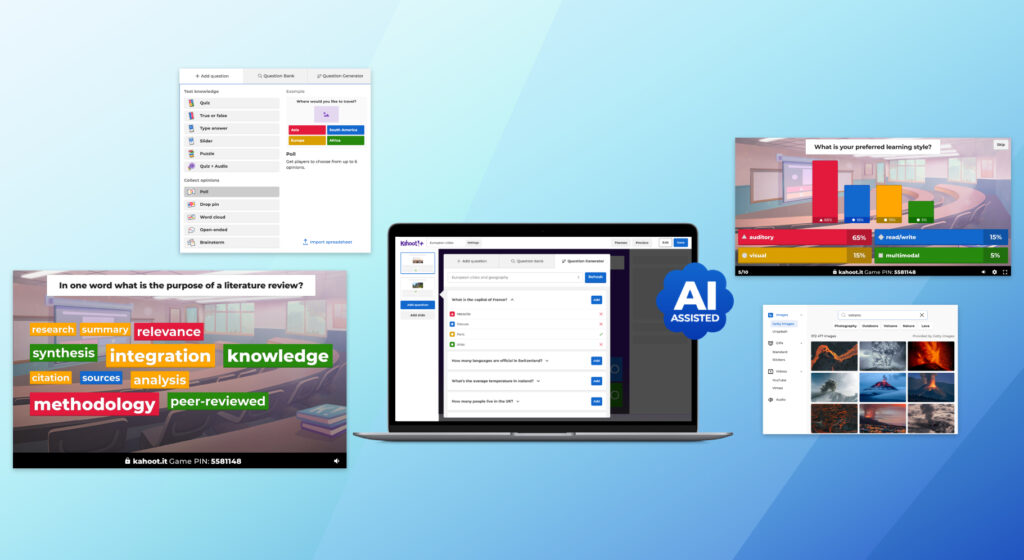 That's where Kahoot! comes in! With instructors reporting student engagement as one of the biggest hurdles faced in their profession, we've made it job #1. We've been busy creating all new features with students, educators, and admins in mind, from our AI-enhanced Kahoot! creator to next-level gamified learning experiences, and more, coming just in time for back-to-school! Read on to learn more or play our Kahoot! 101 challenges to discover new ways of using Kahoot! in your courses and on campus this year.
Interested in getting early access to all these amazing new features? Save 20% on Kahoot!+ plans, starting from $7.99/month until September 30.

Empower instructors and students with the all-in-one toolkit for engagement, instruction, assessment and reporting, Kahoot! EDU. Get a quote or demo to customize your plan with special pricing for large teams, departments or institutions.
Spend less time prepping and more time instructing with AI
Our new AI-enhanced features help save time on lesson planning and content creation, and even provide students with answer explanations to maximize every learning opportunity! With the new Kahoot! question generator you can create kahoots on any topic in seconds! Simply search your topic and select from a list of questions created by our generative AI. You can edit any questions where needed and even add your own questions using our AI-assisted co-writer feature to shorten, extend or set the desired tone for your text. But that's not all, learn more about all of our upcoming AI-enhanced features that you can look forward to using in your courses soon.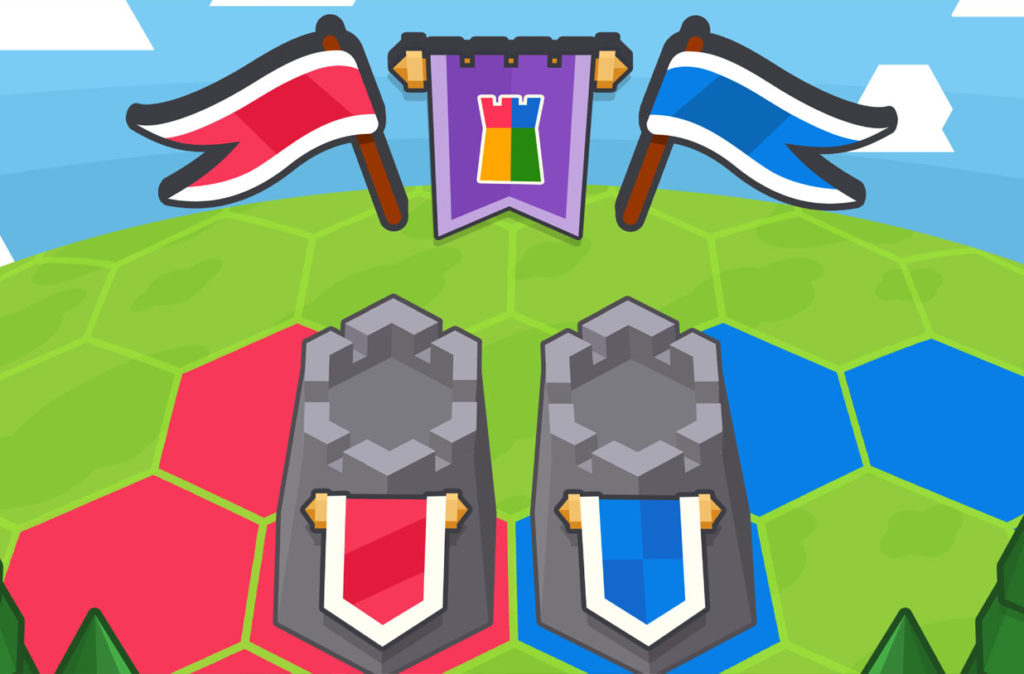 Boost student engagement with more gamified learning experiences
Since the launch of our new student-led game modes, over 70 million users have played our new game modes! That's a lot of engaged learning! Now, we're focusing on new ways to take game-based learning to the next level with immersive game packs, more game modes, and our new study toolkit for students to keep track of their progress! Your students can even take gamified learning home with solo game modes and a personalized study toolkit to help them reach their learning goals.

Discover new ways of instructing with Kahoot!
Keep your lessons fresh with slide reactions for instant feedback, quick sessions to create on-the-fly learning opportunities, and content channels to quickly and easily find the most relevant content, or monetize your own learning content. Empower students to share their thoughts on your lesson slides in real-time with slide reaction icons to express appreciation, confusion, approval, humor, surprise, and more. Facilitate instant conversations while learning in flow with quick sessions. Launch  brainstorms or quick polls in seconds without having to create an entire kahoot! Not in the creating mood? Kahoot! has thousands of ready-made kahoots made by verified educators and partners in a variety of subjects.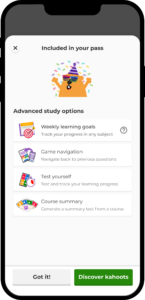 Curate and facilitate student-centered learning experiences
Give your students ownership of their learning with new and improved courses and enhanced student passes. Create interactive course content that students can work through at their own pace. Complete courses allow you to combine multiple kahoots and different content formats (such as video and pdfs), choose a theme, and create a shareable link to add to your LMS. 
With our enhanced student passes, your students can learn with advanced study modes, set study goals for themselves, and dive deeper into their learning with premium ready-made content on Kahoot!+ AccessPass. Additionally, students gain access to the Kahoot! creator allowing them to create interactive presentations or create materials for self-study. Sharing student passes is as simple as displaying a QR code to your students or sending a link. 

Get all you need to make learning awesome this back-to-school
This back-to-school season is all about boosting student engagement and instructor productivity with our latest features to make it easier and faster to create engaging learning experiences! To learn more about these features, play our Kahoot! 101 challenges on our back-to-school campaign page Don't forget to take advantage of our exclusive back-to-school offer to access all of these features in Kahoot! + Max, today 20% off only $19.99/month until September 30, and empower every instructor in your department, college or university with special pricing on Kahoot! EDU for large teams and institutions. Request a quote and book a demo for more information
We hope you have an awesome start to the school year! If you enjoy using these new features or have any feedback to share with us, please reach out to us on Twitter, Instagram, Facebook, and TikTok!