Tailor lesson dynamics to learning goals and students' pace
When hosting a kahoot at the beginning of a class, you might want to create lots of energy. On the other hand, when teaching content that requires concentration, you might want to slow things down. Easily control classroom dynamics with top Kahoot! features such as toggling points off or turning off the question timer to remove time pressure and to increase focus.
Personalize virtual classrooms by adding Bitmoji to Kahoot!
With our new integration, you can add your Bitmoji to a live kahoot to help you liven up your virtual classroom, add a more personal and familiar feel to it, and better connect with your students. This feature is available for free for all teachers.
Master new Kahoot! features in our webinar with Leslie Fisher
New Kahoot! features for you. Your students. Everyone! In December we hosted a webinar with EdTech expert Leslie Fisher where she covered all the new Kahoot! features released last year. Watch this recording to get a recap:
Stay up to date with our webinar schedule, register for the upcoming ones and watch recordings on demand by visiting our webinar page.
Organize kahoots you find and create in collections
Have you tried our newest collections feature yet? Create kahoot collections around specific topics to plan your classes and use them as playlists, or share with your students. For example, you can create collections focused on different topics for review.
In the Kahoots section, click Collections and then Create collection. Once a collection is created, you can add both your own and community-created kahoots to it. Simply open a relevant kahoot, click the 3 dots dropdown, and hit Add to collection.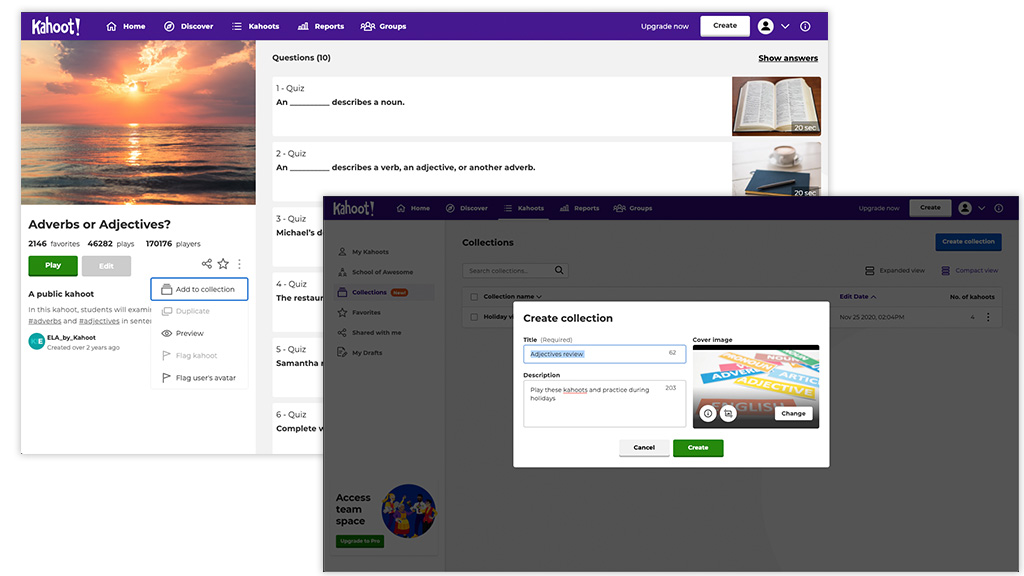 Print kahoots for handouts
Based on popular feature requests, we've made it possible to print the details page of a kahoot. Open a kahoot you'd like to print, click the 3-dot dropdown, and choose Print. To include answer alternatives into the print version, click Show answers before printing a kahoot.
Try the Kahoot! app in Spanish, French, Brazilian Portuguese, and Norwegian
Recently, we added more languages to the Kahoot! app to make it even more accessible and relevant for our global community. Now, you can play, create, host kahoots and assign challenges in French, Brazilian Portuguese and Norwegian, in addition to English and Spanish.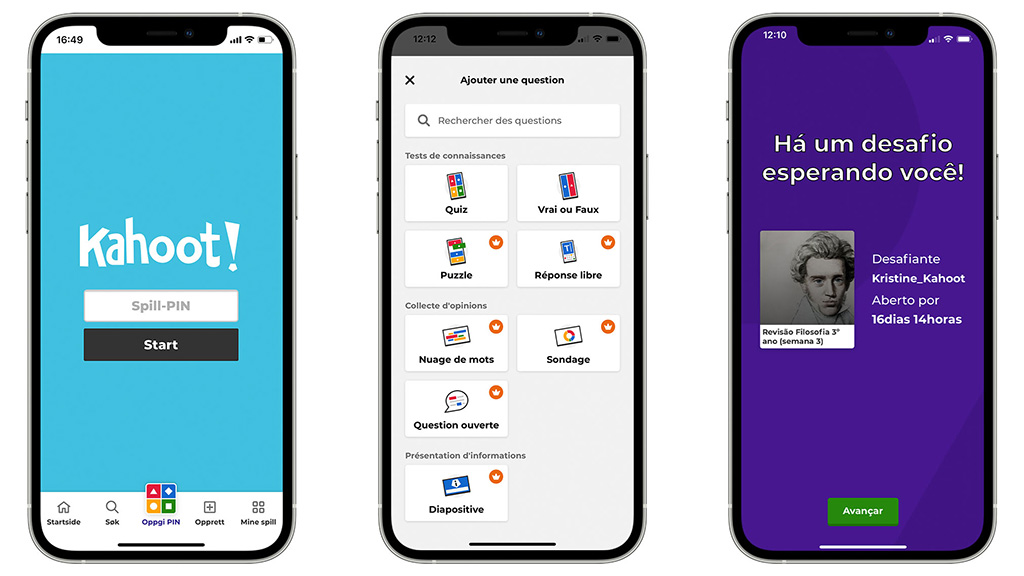 Connect your entire school or district with Kahoot! EDU
Several teachers in your school or district using Kahoot!? Learn about Kahoot! EDU, our new, scalable offering that helps admins and school leaders bring an enhanced Kahoot! experience to their entire school or district.
Join Kahoot! Academy, our global educator community
Last year, we announced Kahoot! Academy – our brand-new global knowledge platform, community, and marketplace. Educators and publishers can share high-quality learning material and join communities based on subjects they teach, their curriculum, and interests. Learn how you can apply to become a Verified educator within Kahoot! Academy and make your unique content seen by millions!
We're working on many updates to help you make learning even more awesome this year. Stay tuned!