What will the workplace look like in a post-pandemic world?
It's a question that companies of all sizes in every industry are starting to address: Unilever's CEO Alan Jope stated that his 155,000 employees will never return to desks full-time while Twitter will let everyone work from home "forever." Shopify's CEO Tobi Lutke went a step further to claim "office centricity is over." And, in a research paper, Morgan Stanley estimates that 30% of US workers will continue working from home over the next three to five years.
A hybrid model of working from home and at the office is clearly the future, meaning video meetings are here to stay. So, how can we make them more engaging and productive? How can we break down digital barriers to facilitate organic interaction and make everyone feel valued and heard? With Kahoot!, you can do all that and more. Here's how!
Make content stick with engaging interactive presentations
Keeping everyone engaged and focused during video meetings has been a pain point for many over the past 12 months. From sharing the wrong screen to hopping between a sea of open tabs, delivering a seamless video meeting doesn't always go as planned. However, thanks to Kahoot!'s best-in-class interactive presentation features, you can keep everyone on your call focused on the topic at hand.
It takes only a couple of minutes to create an interactive presentation for video meetings and they're perfect for a wide range of scenarios, such as informing your team about important product updates or policy changes. Here's how to create one:
Get started by importing a slide deck or add content directly via the slide feature within kahoot. The slide importer supports .ppt (PowerPoint), PDF (you can export Google Slides as PDFs), and .key (Keynote).
Add a variety of different assessment question types, like type answer and multi-select, to engage everyone and ensure content sticks.
Deliver your interactive presentation via the video conferencing platform of your choice, such as Zoom, Microsoft Teams, and Google Meet.
While traditional presentations rely on audiences to passively absorb and retain knowledge, Kahoot!'s slide features for creating interactive presentations involve and engage participants throughout. When people on the call know questions are coming, they naturally pay more attention to the slides. It's a fun and quick way to deliver important information and support learning and retention in a social setting – all while helping to strengthen remote team culture.
Keep everyone involved with audience participation features
Of course, not every meeting involves one person delivering content. Most are collaborative. As well as assessment question types, you can also gauge opinions and gather feedback with Kahoot!'s range of audience participation questions, including polls, word clouds, and open-ended questions. These features are a great way to spark discussions and keep ideas and conversations flowing organically during video meetings.
Kahoot! pro tips: How to to involve everyone in a meeting!
As a best practice, include key information in the slides to introduce talking points before using audience participation features to engage and involve everyone.
Use polls to discover your team's thoughts on a particular strategic decision, policy change, or industry trend – for example.
Word clouds are a fantastic way to collect opinions and ideas as participants type short responses. The most popular responses are then displayed in a word cloud for everyone to see and discuss.
End meetings with an open-ended question. This lets you collect detailed feedback from everyone on the call. You can review the responses in the Kahoot! report.
Foster creativity and boost team collaboration with brainstorm
One of the most important aspects of any meeting – virtual or in-person – is creating an environment where everyone feels valued and heard. The lack of face-to-face interaction can create several barriers. However, with Kahoot!'s new brainstorm experience, you can easily create a culture of collaboration where ideas and opinions are freely and easily expressed. Read how to host an awesome remote workshop with brainstorm.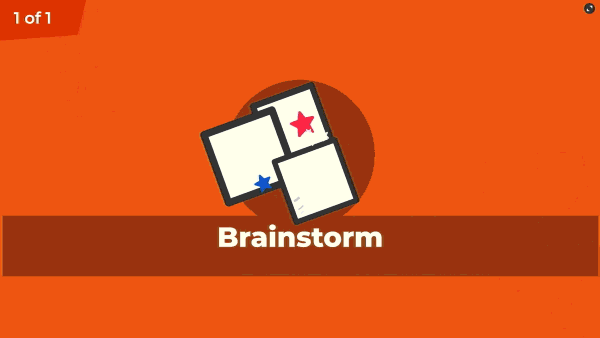 The brainstorm experience breaks down digital barriers to create an interactive experience with a human touch. Follow these simple steps to facilitate a brainstorm:
Kick-start a discussion by asking a question
Participants submit their ideas individually
Discuss the ideas as a group as they appear on the shared screen
Start voting to quickly identify the best ideas
Next time you host a video meeting, be sure to include a brainstorm and see how the gamification features keep everyone engaged and energized!
With more and more meetings and workshops being hosted virtually, it's more important than ever to use tools to boost focus and productivity. Access all the engagement-boosting features mentioned in this post with Kahoot! 360 Pro. See plans.