As workplaces shift toward a digital-first approach, finding ways to keep teams engaged in meetings and presentations is a hot topic. That's why in April, we'll launch a PowerPoint add-in allowing hosts to present kahoots without leaving PowerPoint's presenter view!
Make presentations awesome with Kahoot! and PowerPoint
Integrating Kahoot! with PowerPoint is one of the most requested features from our global community of business users. So, we're delighted that we can further help presenters deliver awesome content and unique engagement experiences throughout the workplace.
Presenters will be able to deliver key messages within PowerPoint slides before reinforcing the main points with kahoot questions – all without switching between software.
By combining PowerPoint and Kahoot!, presenters deliver two-way conversations that break down digital barriers that can occur in hybrid workplaces. Such interactive presentations create virtual spaces where everyone feels valued and heard – and where ideas and innovation can flourish.
Here's how to get started when the add-in launches:
Install the Kahoot! add-in for PowerPoint by following these simple steps
Add your key content to PowerPoint slides.
Create your kahoot! Make sure to include audience participation features like polls and word clouds to spark discussions, and see if you landed your key points in real-time with quiz, true/false, type answer, and puzzle questions.
Copy the link of the kahoot, and paste it into the Kahoot! add-in within PowerPoint.
Continue to edit and rearrange your slides for optimal engagement.
Deliver your PowerPoint presentation, and host the kahoot without leaving presenter view.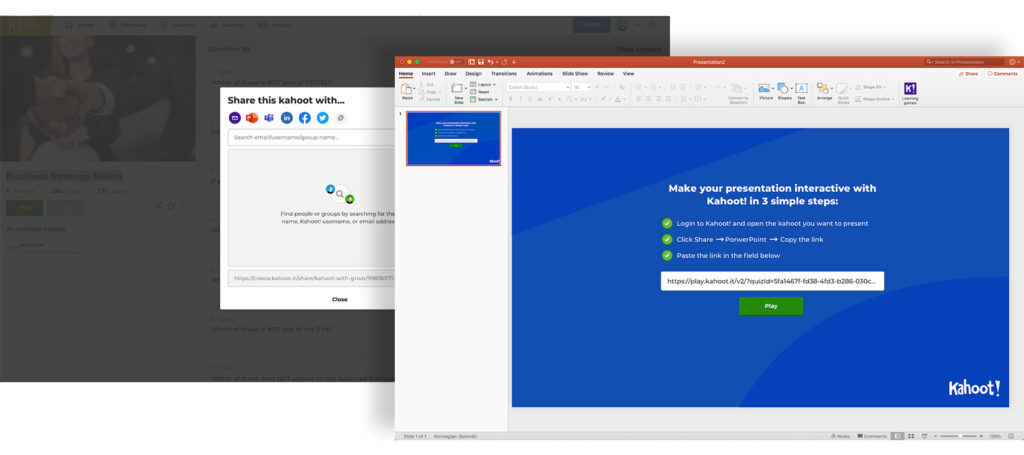 Did you know that you can also import PowerPoint slides directly into a kahoot? Once imported, you can rearrange the slide order, delete slides, and add question types. With the upcoming integration, you can continue to edit slide content on PowerPoint even after importing a kahoot.
Unlock the complete Kahoot! 360 toolkit for presenters
The launch of this integration with PowerPoint is part of our focus to develop an even stronger toolkit for presenters. We recently launched Kahoot! 360 Presenter, a brand-new plan that's specifically designed for any professional who delivers content in the workplace. The plan enables hosts to create and deliver presentations that involve audiences throughout, not just with a Q&A at the end. With Kahoot! 360 Presenter, you can:
Present key information in

10 flexible slide layouts 

Import slides from your favorite presentation tool (PowerPoint, Keynote, or PDF) directly into a kahoot.

Drive innovation with

brainstorms

to surface your company's next big idea.

Give everyone a voice! Collect opinions with polls and word clouds and gather feedback with open-ended questions.

Test knowledge retention with type answer and puzzle questions.

Host kahoots on the video conferencing platform of your choice, such as Zoom, Google Hangouts, Cisco Webex, Skype, and BlueJeans.

Check out our integration with Microsoft Teams! 

Coming soon:

Host kahoots directly within PowerPoint
Kahoot! 360 continues to build a leading presentation package for engaging and energizing employees in-person and via video conference. From our integration with PowerPoint to features such as brainstorm and polls, Kahoot! 360 helps companies across the globe create and deliver impactful presentations, regardless of where they're working.
Kahoot!'s integration with PowerPoint will be available with Kahoot! 360 plans (except Kahoot! 360 Plus), and selected plans for educators. Join Kahoot! 360 today, and start creating and delivering engaging presentations and meetings in the new world of work. See plans.