According to a survey we ran this spring, 50% of teachers thought student progress was below the expected level in the school year 2020/2021 due to school closures. Filling in knowledge gaps and enriching learning was one of the hottest topics discussed in a recent session hosted by Edweek Market Brief:
Administrators representing several large school districts in the US discussed their strategies to support students and teachers over the summer and during the school year. They named initiatives such as summer jumpstart programs, STEM camps, mentorship and high-intensity tutoring program, and more, – all while keeping a strong focus on emotional well-being and preventing burnout.
We at Kahoot! believe that learning is never lost! If knowledge gaps are identified, students just need a little extra learning boost, personalized to their level of knowledge and habits, to catch up and improve learning outcomes. Read about 5 Kahoot!-powered ways to accelerate learning, both from the teacher's and student's side, – make the most of them during summer and incorporate them into your back-to-school plans!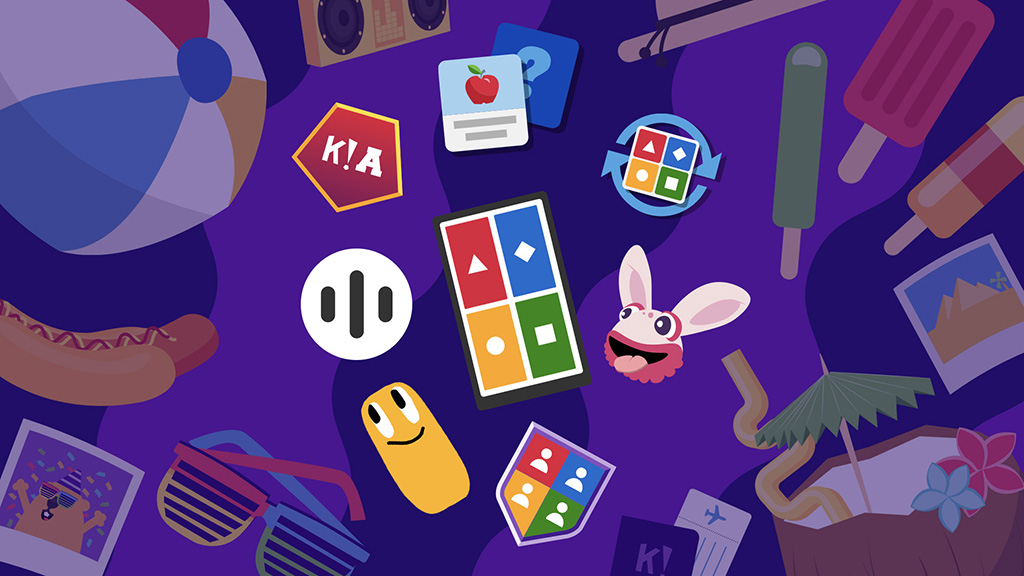 Reinforce knowledge with ready-to-use content by Kahoot! Academy
Together with its Verified educators, Kahoot! Academy, our knowledge platform and global community, provides high-quality, ready-to-use learning content across a variety of subjects. Log in to your Kahoot! account and browse featured collections on the Discover page covering subjects such as math, ELA, social studies, and more. You can use these kahoots to refresh knowledge in summer school (no need to create content from scratch!), assign to students for self-study, or save your favorites to add to your back-to-school program.
Focus on students' well-being as you prepare for the next school year
Instead of diving into review and assessment, give your students the emotional support and content they need to ease their way back into the classroom.
Developing students' social and emotional skills is more important than ever after so many months of uncertainty. Last year, we started an ongoing collaboration with several educators and Premium partners, including Peekapak, Peppy Pals and Empatico, to create social and emotional content for all ages. Explore partners' collections and these curated ready-to-play kahoots to play them with your students in summer school or when the new school year begins.
Give students new, fun ways to study on their own
We're proud to see that more and more students choose Kahoot! as their preferred tool to study, review content, and prepare for tests. To make studying on their own or together with friends more fun for students, we've introduced several new modes in the Kahoot! app:
Leagues within the Kahoot! app make studying more fun through friendly competition. Students can choose from millions of ready-to-play kahoots to add to leagues, invite up to 100 peers, compete and follow leaderboards in real-time.
With the study modes in our app for iOS and Android, learners can study at home using flashcards, practice, test games, and peer-to-peer challenges. Students can choose kahoots themselves, or you can share a relevant collection with them for a self-paced study experience!
Brush up language knowledge with our new auditory learning features
Recently, we've added several new features targeted specifically at language learning:
The Kahoot! app can now read aloud questions and answer alternatives in 37 languages within challenges and study modes. This will support language learning, assist young learners and provide a more accessible experience for people with reading impairments. Assign any kahoot as a student-paced challenge, and let learners know how to enable this feature!
At the same time, you can also add audio to specific questions when creating your kahoots. Make reading and listening assignments more interactive, advance language learning, and explore new ways of playing Kahoot! with younger learners.
Bring fun, game-based learning home!
Juggling roles of a teacher and a parent isn't easy – particularly these days. As a teacher with a Kahoot! Premium+ or EDU subscription, you have access to a set of fun learning apps for your family and personal use. Support your kids to study at home and make their screen time more impactful with Kahoot! Poio Read and math apps by Kahoot! DragonBox.
Looking for more inspiration on how to make coming back to the classroom awesome? Check out on-demand recordings from our recent Kahoot! EDU Summit where 30+ ambassadors, pedagogy experts, and partners shared their best practices.
Enjoy your well-deserved summer break, and stay tuned for our back-to-school announcements! It's going to be exciting!