Nothing connects colleagues during meetings, presentations, and training sessions quite like Kahoot!. The live Kahoot! experience brings people together and makes workplace learning and knowledge sharing way more fun, engaging, and impactful. That's why 97% of the Fortune 500 love using all of our interactive features.
We continue to take steps to make the live Kahoot! experience even more accessible and inclusive for every participant – regardless of their location, tech setup, or visual ability. To that end, we've made it possible to display questions and answers on participants' devices during live kahoots.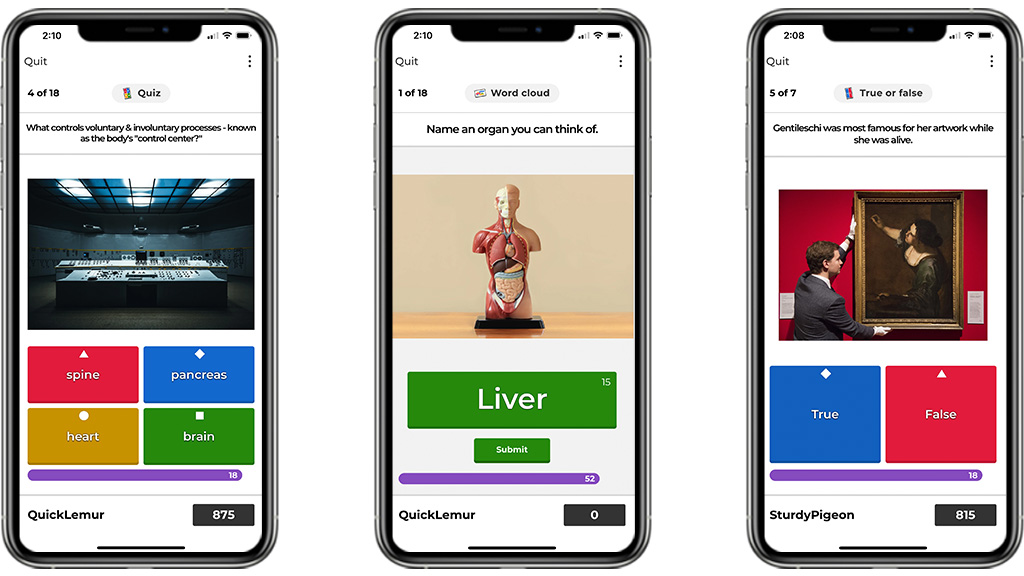 As a popular request from our community, this option preserves the main components of a live kahoot session – social learning, friendly competition, and fun – and makes it easier to include and engage every participant. Here's when displaying questions and answers on the same screen works best:
No big screen in your meeting room? Enable questions and answers on the same screen, so participants don't have to huddle around a laptop.
Facilitating a video meeting? Help participants easily see the questions on their devices without switching between screens.
Hosting a large in-person event? Ensure that even those at the back of the auditorium feel involved by enabling this feature.
Do participants have visual impairments? Make the live experience more accessible for them with questions and answers appearing on their device.
Make every meeting attendee feel heard and included with Kahoot!
How can you host a genuinely impactful meeting that makes everyone feel heard and included? After all, too often, people sit bored and frustrated in poorly facilitated meetings that don't do enough to include everyone. That's where Kahoot! comes in.
The classic live kahoot experience is a fantastic way to break the ice in meetings, share knowledge, and give everyone a platform to share their thoughts and opinions. But we want to make the live experience even more inclusive for all participants. By providing hosts with the option to display questions and answers on participants' devices, hosts ensure every participant can contribute to the kahoot session.
We believe it's so important to avoid creating a two-tier work environment that unconsciously favors some employees. Features like displaying the questions and answers on participants' devices level the playing field and enable everyone to join the conversation.
How to display questions and answers on participants' devices
Displaying questions and answers on participants' devices is optional, but we recommend activating it especially for kahoot sessions hosted via video conference. By improving accessibility, every participant will feel fully engaged and involved.
Follow these four steps to enable this feature:
Find a kahoot you want to host and open it
Choose Play followed by Present
Scroll down to General on the Game options page and toggle on Show questions and answers on players' devices
Select Classic or Team mode to start the kahoot session.
Participants will then see both questions and answers on their device, but the leaderboard and podium are not shown on the participants' screen. We recommend that hosts always share their screen during a kahoot session hosted via a video conferencing platform.
But this isn't the only way we're improving the video meeting experience: It's easy to host kahoot sessions via any video conferencing platform. Just share your screen, and participants can pin in and play. We are also fully integrated with Microsoft Teams and Zoom for a seamless experience for both the host and participants.
As well as enhancing the live kahoot experience, we also launched a self-paced game mode in 2020 where participants complete kahoots asynchronously on desktop or mobile. They're perfect for keeping learning and development up to date. Just create a kahoot and assign it to learners. Watch a recap of self-paced challenges.
Next time you're hosting a kahoot session via video conference, be sure to display questions and answers on participants' devices. Log in or sign up to try it out!