The original success of kahoot is based on the foundation of emphasizing that learning should be fun. While participants love the engagement and energy of a live kahoot session, many of our customers would ask us how they could extend the energy of the kahoot experience beyond stand-alone live sessions. Customers were telling us with increasing regularity that they wanted to take the elements of engagement and fun knowledge acquisition that are created in stand-alone live kahoot sessions, and apply them in a more continuous learning process. In other words, our customers were telling us how they wanted to use Kahoot! 360 to deliver structured training and share knowledge.
Edit, create and update training courses in minutes, not hours.
Creating engaging, differentiated learning experiences at scale is a daily challenge for managers, trainers and L&D professionals. And so, Courses for Kahoot! 360 was born. With Courses you can build in-depth learning by combining multiple kahoots into a single learning experience that can be delivered and tracked over an extended time period.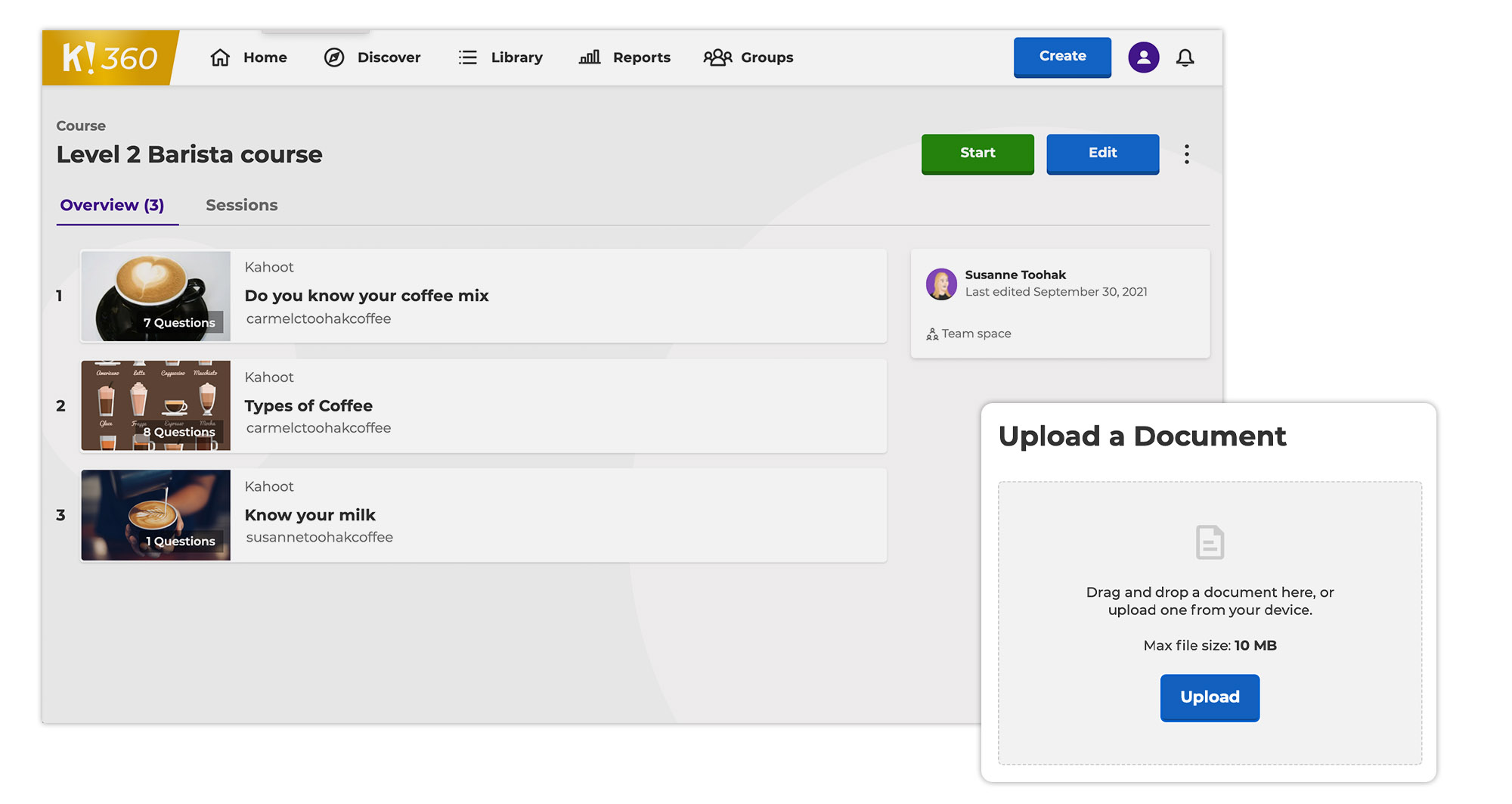 Introducing "live" learning for Courses with third-party content
In recent months the most popular piece of customer feedback we have received about Courses has been about the asynchronous learning experience; while asynchronous learning experiences helped many companies to quickly pivot and deliver continuous learning as we all went remote, needs are evolving again. Our customers are looking to be able to deliver the same training content in a variety of ways, depending on the needs of the participants – remote, in-person or hybrid.
The other major piece of user feedback we received is that training teams wanted an easier way to incorporate external and existing content as they develop new courses. 
With our new live sessions for Courses, you can create both asynchronous and live learning experiences to adapt to different learning scenarios

Participants can take kahoots sessions as a self-paced challenge in their own time, or complete sessions live, in a group setting (either virtually in a video conferencing meeting or for example, at an in-person training event).

With our brand new document upload feature, you can easily incorporate external content via documents and slides. Support your learners with additional materials all in the same platform:

Easily import existing training materials into your Kahoot! 360 Courses to make content creation even faster.
Structured training courses built for the new world of work
So what might the learner experience look like with these new features? Imagine you're a company or department which is transitioning to a hybrid work model and you want to design a structured onboarding program that captures the imagination of your new hires with a unique and engaging learning experience from day one.  
With Courses you can deliver a highly flexible course program that adapts to the needs of both your new hires and the teams responsible for onboarding them. 
Firstly, HR (or the team responsible for employee onboarding) uploads training documents about your company history, so that it's available for all your new hires to review in their own time.

Secondly, team members across HR, management and other subject matter experts can create content which can be added to the onboarding Course.  

The cohort of new hires are placed into a training group in your Kahoot! 360 account and enrolled onto the onboarding course. As a first step, they can review the first few modules in preparation for an in-person "new hire" training event at your head office.

HR and other team members involved in delivering the onboarding process can choose to host a number of "live" modules over the first few weeks as your new hires begin to learn about and understand your company culture.

The new hires don't just learn about the company culture by being told about it.

The new employees are encouraged and supported in participating in the company culture by doing.


As a follow up from the live (in person or remote) sessions, additional modules can be completed remotely as the new hires go back to their offices, and in conjunction with their manager or team leader.

The HR team back at head office can use reporting to track the progress of the participants:


Follow up the progress of individual learners. To make reporting and tracking easier, use our Player ID feature with secure email verification to get insights on individual participants.


Improve and update your onboarding program by analysing the performance of the overall training cohort.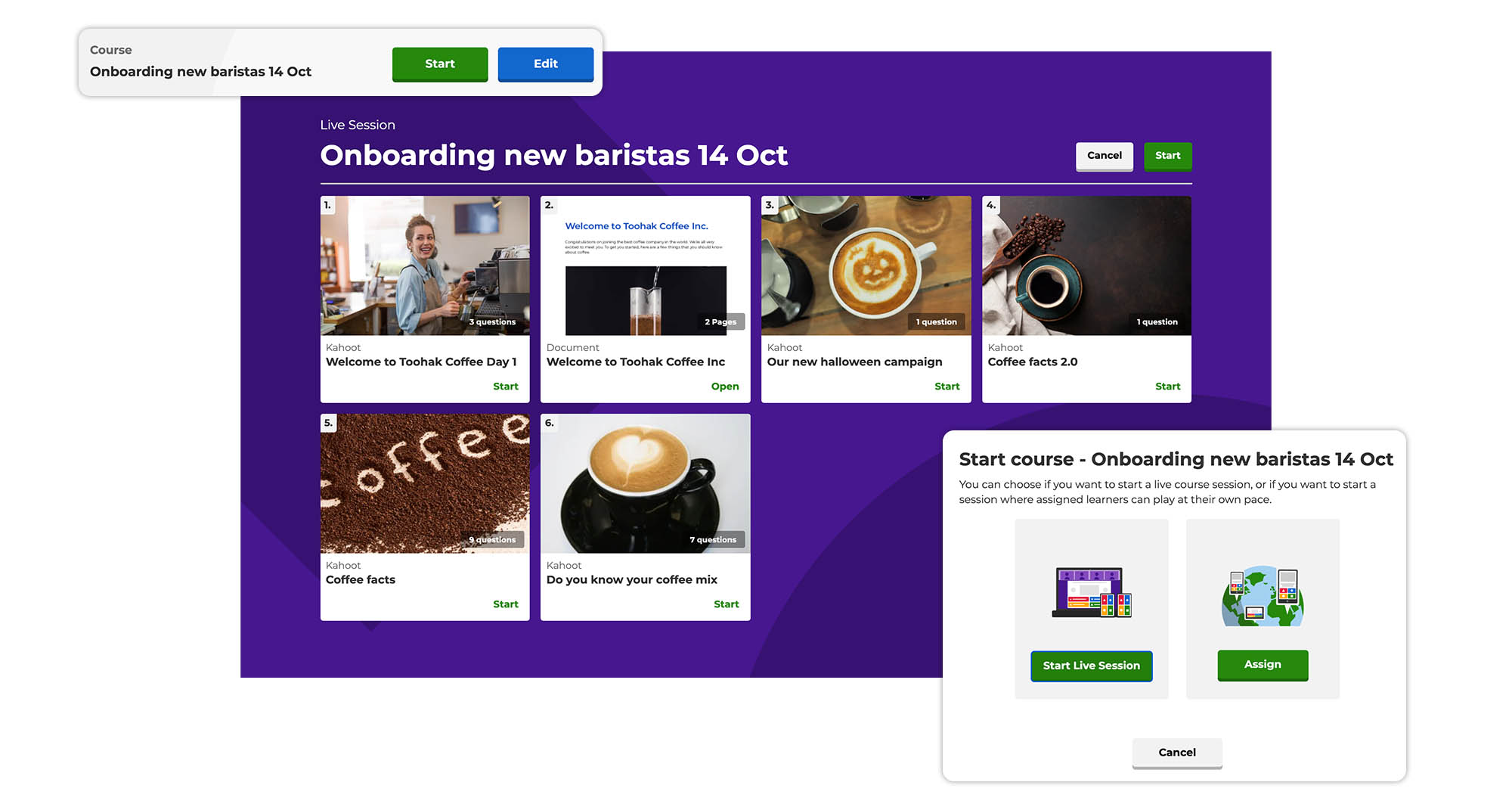 Getting started with Kahoot! Courses: Create your first course
It's really easy to get started and develop your first course with Kahoot! 360:
Log into your Kahoot! 360 Pro or Spirit account
In the top navigation menu select Library > Courses
In the Courses tab choose Create course in the top right of the screen to start designing your course

Add kahoots to your course – select existing kahoots or start from scratch by making brand new kahoots
Add third-party content via PDF document upload. You can include written instructions and descriptions to support your learners as they work through the course.

Host your course in a live session or assign it for self-paced learning
Turn your course into a multiplayer game with Fresco
Get started with Fresco and redefine your educational experience by bringing social and active learning to the world! Turn your course into a game to engage your learners at a new level and help them retain what they have learned.
Go beyond slide decks and quizzes! We've made it easy for you to create educational games using our catalog of game templates, or you can create a new experience from scratch using our visual editor. 
You can now leverage the power of games and social interactions, allowing learners to share and learn directly from others. All you need to do is share a link to invite people – no software is required! To get early access, join the beta today!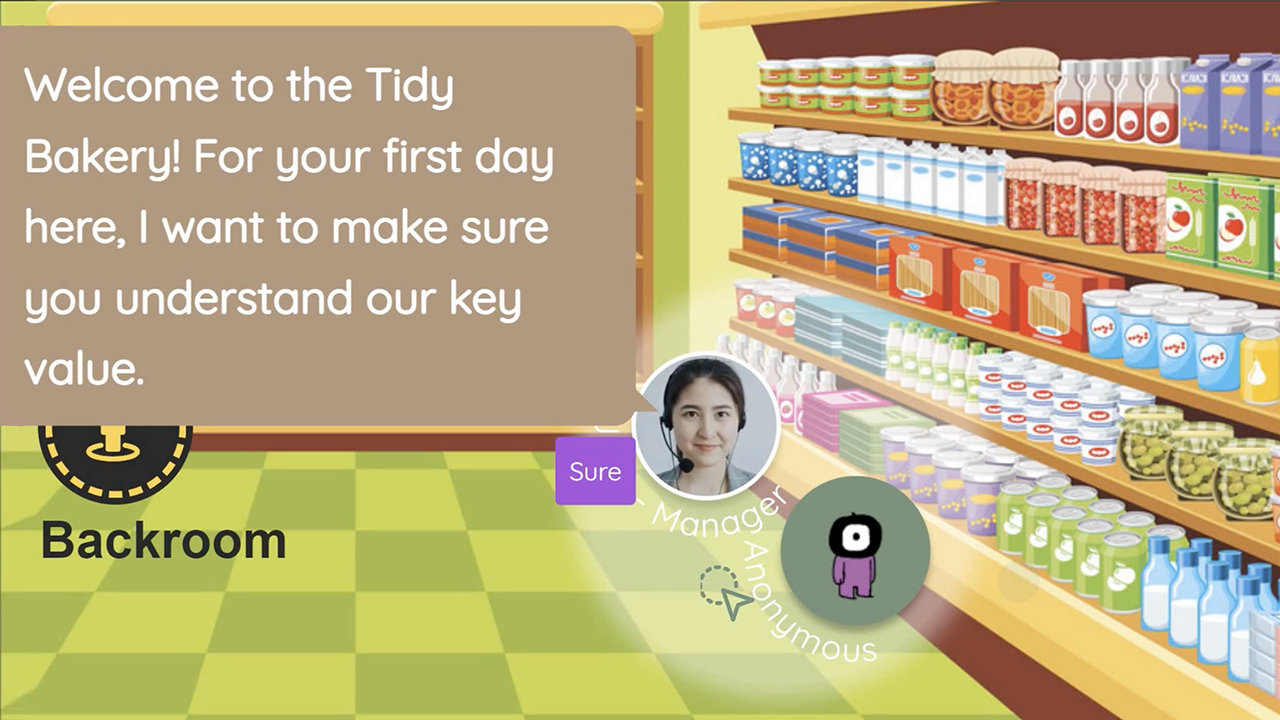 Courses is available with Kahoot! 360 Pro, Kahoot! 360 Pro for Teams and Kahoot! 360 Spirit subscription plans. Only Kahoot! 360 Spirit gives every employee an overview of all training (past, in future and upcoming) and access to a curated library of relevant content for a self-directed learning experience. Upgrade to 360 Pro today or contact us for a demo of Kahoot! 360 Spirit.