Ready to kickstart your kids' learning journey to explore new worlds of knowledge? Today, we're happy to announce the launch of Kahoot! Kids, a space where parents can feel confident in their children exploring new topics, developing key skills and learning through play.
With over 100 million kahoots played by families in the last 12 months, and more than 9 million educators on the platform, Kahoot! is already a trusted destination for learning at home, in the classroom and beyond. Now, you can bring a special kid-friendly Kahoot! experience to the littlest learners in your life too!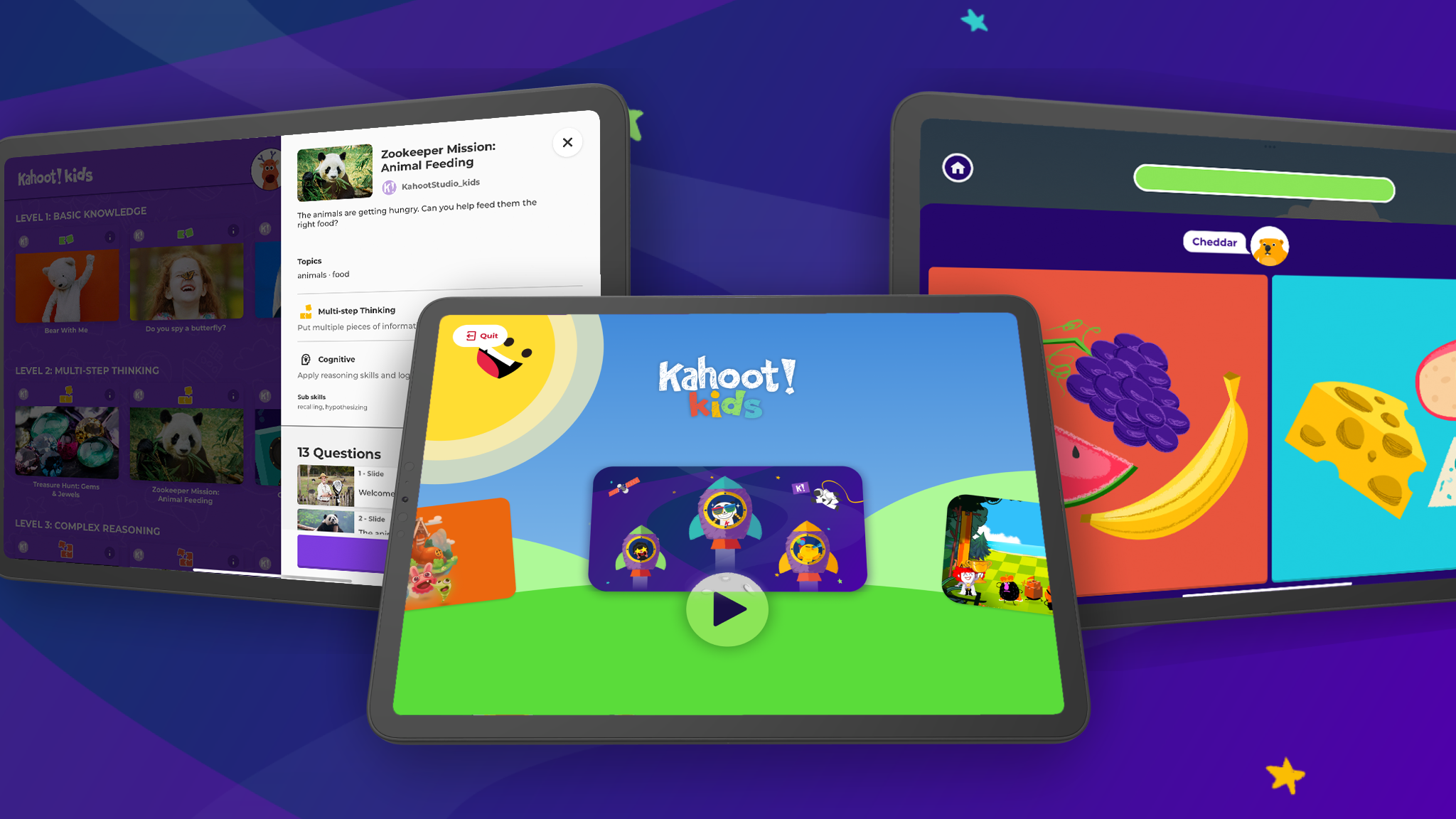 Making learning awesome for kids!
Kahoot! Kids is our new app experience designed to encourage children to develop their knowledge, confidence and curiosity about the world. It is an early learning companion that offers original child-friendly content crafted and curated with care by a group of early childhood learning experts. 
Within Kahoot! Kids, parents, educators and children can find high quality learning content from Kahoot!, as well as trusted Kahoot! Academy Verified educators and partners. Let your kids' imaginations soar with customizable avatars to choose from, making it easy for them to get creative and personalize their learning experience. Next, bring the whole family together with exciting new game modes! Shoot for the stars with our new rocket race game mode, which helps keep kids motivated while reinforcing learning. Or, try out the new Kahoot! team mode to get family members of all ages having fun playing and learning together.
Turn screen time into family learning time with Kahoot!+
Kahoot! Kids is available now for all Kahoot! Kids and Kahoot!+  users when you download the standalone Kahoot! Kids app for iOS, or when adding a child profile to the Kahoot! app for iOS or Kahoot! app for Android.
With a Kahoot!+ subscription, parents can add multiple child profiles, host kahoots with more players and question types and get access to Kahoot!'s award-winning learning apps. Tap into 8 apps including Kahoot! Learn to Read by Poio and the series of Kahoot! math apps by DragonBox. These apps will inspire your kids to go deeper into learning as they develop their skills in reading, math, geometry and algebra and even learn strategic thinking with chess. 
Ready to give the gift of awesome learning and memories together this holiday season? Take advantage of Kahoot!'s special holiday offers on Kahoot!+ plans when you upgrade before the end of the year. 
Coming soon in 2022: Create your own kid-friendly kahoots and discover even more learning content from Kahoot! and renowned brands. Kids will soon be able to collect badges for even more customizability and positivity. Parents and educators will also be able to access learning reports to follow their children's progress as they grow their knowledge and practice skills on Kahoot! Kids.
A learning experience that supports your kids at their level
Early learning is an important time for children to build foundational skills, and all of us here at Kahoot! believe that play is a powerful catalyst for learning. With a wide variety of content on Kahoot! Kids, children can practice their literacy, numeracy, social-emotional and cognitive skills, such as categorizing and making inferences. This gives kids the opportunity to use their thinking skills in different contexts and apply what they've learned in multiple ways—all while they have a blast playing! 
Kahoot! Kids also enables kids of different ages and skill levels to challenge and expand their knowledge, with learning experiences that are accessible to beginners as well as those that require multi-step thinking and complex reasoning. For children who haven't yet begun reading or are still building their foundational literacy skills, our familiar friend Woodchuck reads the questions and answers out loud, enabling kids to play independently or together with siblings or friends. The questions are also displayed on-screen as text, helping early readers practice recognizing written words.
Kahoot! Kids offers a new way for children to learn anytime, anywhere, whether in the classroom or at home, independently or with other kids, adults or educators. Parents can let their kids explore at their own pace within the safe learning environment of Kahoot! Kids, or connect more deeply with their learning by playing together. 
Unlock Kahoot! Kids today or upgrade to Kahoot!+, and let the playful learning journey begin!