Educators around the world have long used Kahoot! with Google Classroom to power up learning and engagement, connect with students and streamline workflows. Today, we're excited to announce Kahoot! is now available as one of the first Google Classroom add-ons, enabling educators to search, create and share interactive learning experiences with their students directly from Google Classroom!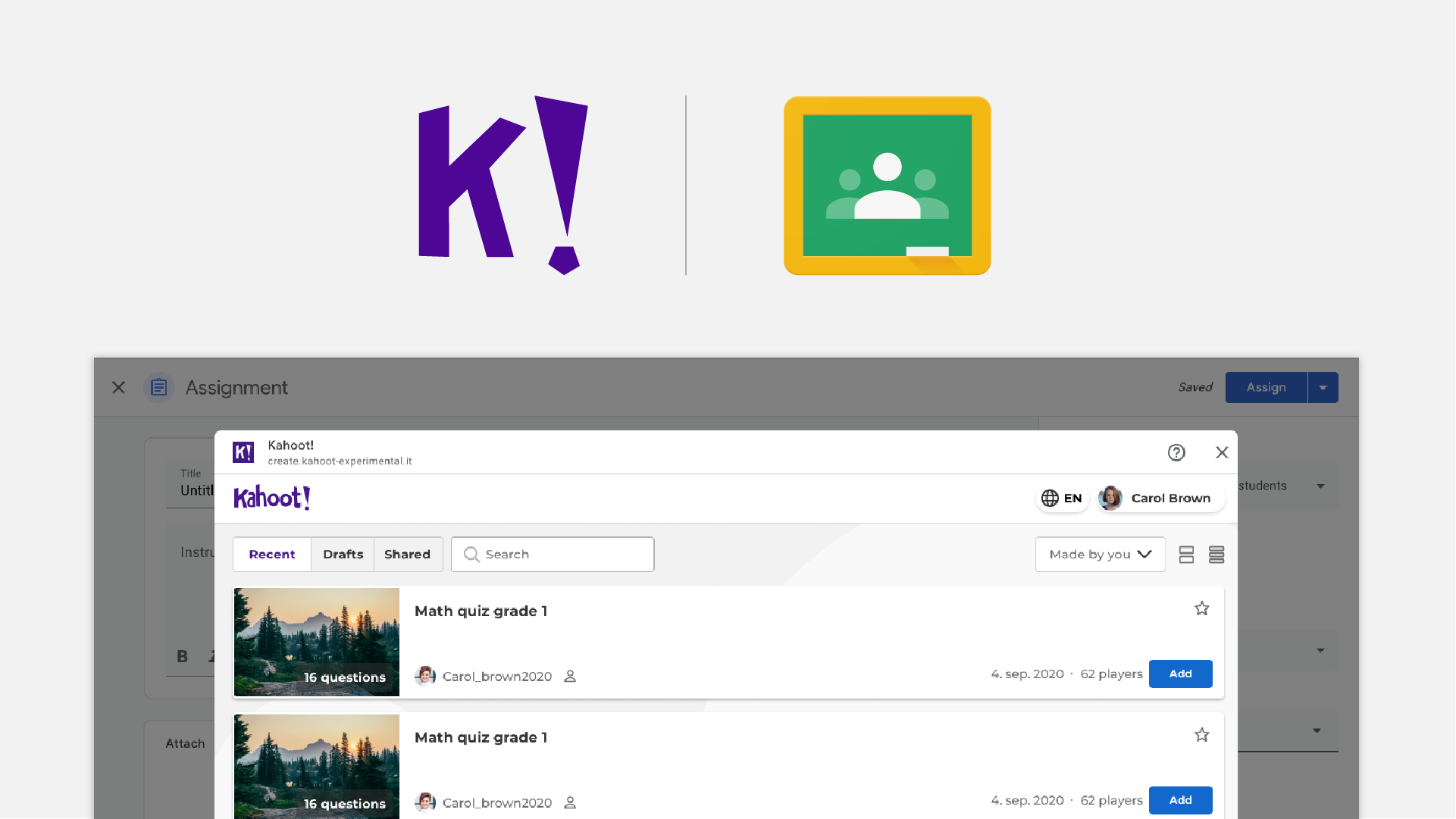 One central place for teaching and learning – Google Classroom is an easy-to-use and secure tool that helps educators manage, measure, and enrich learning experiences. As shared on the Google for Education blog, "Add-ons provide a better end-to-end experience to not only save time for educators, but also simplify the digital classroom experience for students, too." Classroom add-ons are available for all Google Workspace for Education users with the Teaching and Learning Upgrade or Google Workspace for Education Plus editions.
How does the Kahoot! add-on for Google Classroom work?
Admins can set up the Kahoot! add-on for schools across their district from the Google Workspace Marketplace in just a few clicks, putting Kahoot! at educators' and students' fingertips on any device within Google Classroom. 
Through the add-on, teachers can search for or create their own kahoots, inviting students to be active participants in the learning experience, while educators can track and reinforce their students' learning through interactivity and play. With Kahoot! EDU, educators can also access a school library of kahoots, where they can discover and share learning content with other teachers throughout the school or school district. 
Once teachers create or find the perfect kahoot, they can assign the kahoot for their students to play directly from Google Classroom as an assignment or on the stream. Homework has never been so awesome! 
Teachers can also track their students' progress through all of their Kahoot! assignments, including the class average and each student's performance, by accessing the Kahoot! report page right from Google Classroom. Educators can then add a grade and comments for each student once they have completed the kahoot. Watch the video below to see how it works:

Source: Google for Education
This integration marks our latest collaboration with Google, which began in 2019 when Kahoot! was selected to become a Google for Education Partner. Following this, we teamed up to launch Google Search Practice Problems, and in May 2022, we announced that Kahoot! would be integrating with the upcoming live sharing feature on Google Meet.
We're excited to continue working closely with Google to support educators around the world and connect students with learning experiences that ignite their curiosity and inspire them to discover new ideas. 
Stay tuned for more exciting updates for back-to-school and beyond by following us on Twitter, Facebook, Instagram, LinkedIn and TikTok, and learn more about how you can get started with the Kahoot! add-on for Google Classroom on the Google for Education blog.