OSLO, Norway, October 10, 2018 – Kahoot!, the game-based learning platform, announced today the launch of its enterprise plans designed specifically for large companies for a scalable, easy and secure deployment across teams and geographies. These offerings are designed for HR, learning and development, sales, marketing and product teams to use Kahoot! to gamify corporate training, employee onboarding, remote training, presentations, team building, events and more.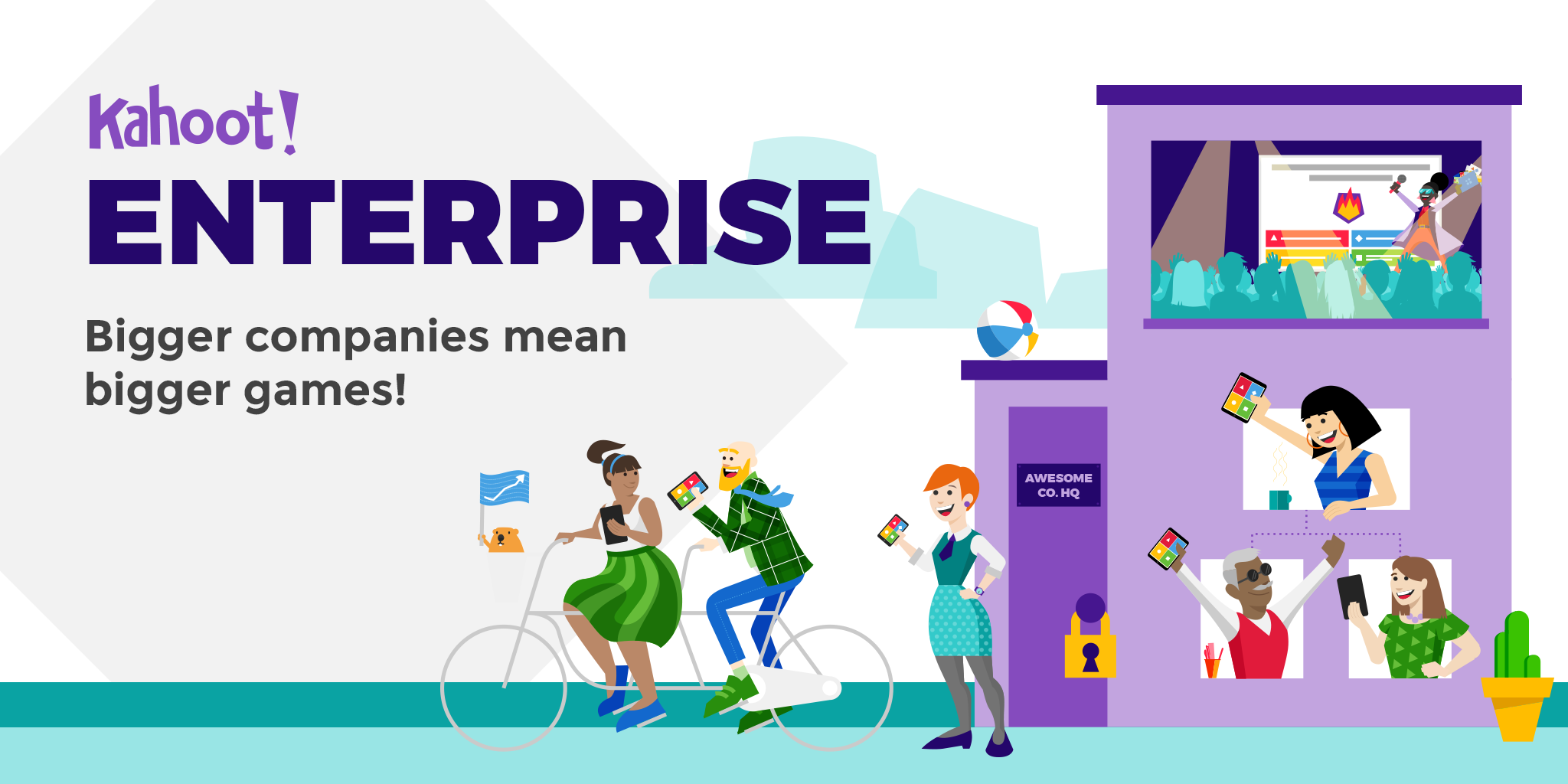 Kahoot! is already used by 97% of Fortune 500 companies and has 1 million monthly active users in a corporate setting. The new enterprise plans will enable large companies to easily deploy Kahoot! and onboard staff smoothly, have increased security with a private and secure game bank that can be shared company-wide and provide simplified payment options.
The global gamification market in the corporate training sector is forecasted to grow almost 10% from 2018 to 2022, according to research firm Technavio.
"In the United States alone, companies spend $7.5 billion a year on external training products and services," said Åsmund Furuseth, Kahoot!'s co-founder and CEO. "With so much at stake, it is important to make training productive and effective. Companies such as Facebook, Getty Images and Kärcher already use Kahoot! to make training fun and engaging, and we are excited to bring more options to similar organizations so they can do the same."
Leo Silva, LATAM Sales Training Partner at Facebook, has been using Kahoot! as a training tool for both co-located and remote teams since 2016.
"When we tried Kahoot! for the first time, it immediately became our go-to training tool because of its simplicity and flexibility," said Silva. "Kahoot! helps us review how well content was learned, with a mix of easy and difficult questions, makes it easy to recap on the info, interact with the audience, answer their questions and make sure that they effectively learn."
What enterprise plans does Kahoot! offer?
Depending on their needs, large companies can choose one of these enterprise plans:
Kahoot! Plus includes essential features for creating and playing custom-branded games in the company, as well as offering collaboration functionality;
Kahoot! Pro provides more advanced features such as a premium image library to create kahoots and a license to use Kahoot! in external events;
Kahoot! Premium is the latest, most advanced offering that includes all features from Kahoot! Pro, as well as the ability to pay by invoice, support of large-scale games and a customer success coach.
Why choose an enterprise plan?
Private and secure platform
At Kahoot!, we take data security and privacy very seriously, ensuring teams can safely collaborate on game content and reports inside the company.
Secure shared game bank for your company
Kahoot! provides companies with a private, secure team space where users can co-create and organize kahoot games that current and future employees can access and contribute to.
Easy deployment
For teams spread across multiple geographies, Kahoot!'s enterprise plans provide a universal license key to help smoothly get teams on board without the need to manually invite employees.
Customer success coach
Enterprise plans also offers a customer success coach to help the company make the most out of Kahoot!
Convenient payment options
Simplify payment with the option to pay by debit, credit card, Apple Pay, or invoice.
Folders (coming soon)
Kahoot! is working on a new folder feature to help large teams organize their kahoots by department, topic or any other criteria in a folder structure.
Only in Kahoot! Premium: Ability to collaborate across subsidiaries
By getting a Kahoot! Premium license, enterprise teams can sync team members from parent and subsidiary companies.
Only in Kahoot! Premium: Host games with thousands of players
In Kahoot! Premium for enterprise, teams can have up to 2,000 players in one synchronized live game or mobile challenge for virtual training.
Help keep Kahoot! free for teachers
Last but not least – by purchasing Kahoot!'s plans for businesses, companies will help keep Kahoot! free for K-12 teachers and students around the world supporting the company's mission to make learning awesome.
More details
Check out our overview of Kahoot!'s enterprise plans with a side-by-side feature comparison and choose the best match for your company. If you're an individual business user or want to get on board with a smaller team, check our pricing page for businesses. For more questions, email us at business@kahoot.com.
Kahoot! for an event?
Kahoot! is also adding a special plan for event managers for one-off events with access all advanced features to host an event of any size. This plan includes the highest number of players that can join a Kahoot! game: up to 2,000. Users can host an event within three months of purchasing a license with no auto-renewal, and have access to a customer success coach to plan the live event.
Learn more about the event edition of Kahoot! Premium or email us at event@kahoot.com.
About Kahoot!
Since its launch in 2012, Kahoot! has turned game-based learning into a pop culture phenomenon around the world. The game platform hosted over 70 million monthly active users and has a library with more than 50 million learning games, created and shared by fans in more than 200 countries. Kahoot! is on a mission to make learning awesome for learners in all contexts. The company is headquartered in Oslo, Norway with offices in London, Austin and Palo Alto. Let's play!
Press Contact:
Global
Falguni Bhuta
falguni@kahoot.com
Norway
Sean D'Arcy
sean@kahoot.com