Calling all office superheroes who use a premium version of Kahoot! for businesses! Today, we're unveiling a big design makeover on Kahoot! Plus and Pro, with the update coming soon for teachers as well. Now, it's going to be even easier to discover, organize and collaborate on kahoots with your team. Here's what's new: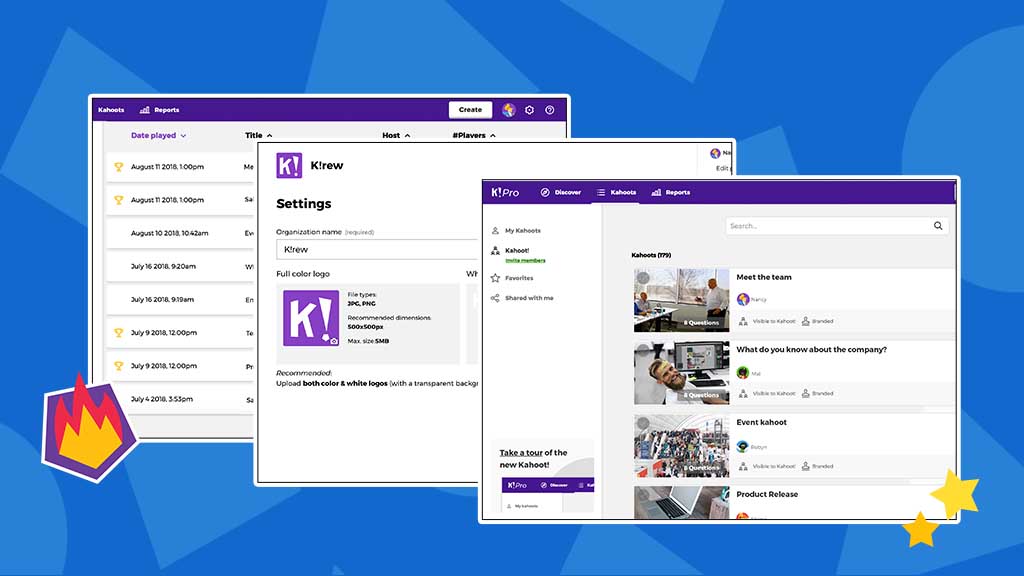 New navigation bar

We simplified and brushed up our top navigation bar to make getting around a breeze! Discover games, find your own games – as well as those you've created in your team space – under Kahoots, access Reports on your game data, or head right to Create to start crafting new, awesome kahoots! Your own account preferences, as well as team settings, are under the settings icon.
Organize and find kahoots with ease
Let's look at how things are now organized under Kahoots. On the left hand side of the page, you can easily navigate between your different kahoots lists:
My kahoots: kahoots you created as an individual user
Your team's kahoots (under your company or team name): kahoots shared with your team members in Kahoot! for businesses – you can collaborate on them right here!
Favorites: public kahoots you "saved" by clicking on the star icon
Shared with me: kahoots other users on the platform shared directly with you.
You can easily move kahoots from your own list (My Kahoots) to the team's kahoots and the other way round: just change the kahoot's visibility settings.
Kahoot cards got a new look, too
We redesigned kahoot cards to make them neater and easier to read. The two most important buttons – Play and Challenge are still in the spotlight. If you'd like to duplicate, edit or share a kahoot, you'll find those options by clicking on the three dots dropdown.

Dive into game reports
When you go to Reports, you can switch between the results of the personal kahoots you hosted (My reports) and your team's game results (click on your company or team name on the left-hand side). Click on a report to take a deeper dive into the stats.
Where, what and how: FAQ
We hope you enjoy our new look! To make this transition as smooth as possible, here are some FAQs answers to guide you: