Trainers, presenters, event managers, quizmasters, learners – our app has some goodies for all of you! Today, let's talk about all the great things you can do with the app if you're using Kahoot! for businesses.
Earlier this month, we updated our app to take your mobile Kahoot! experience to a new level. In addition to playing kahoots, now you can also create and host them right from your phone or tablet. For busy business bees, it means…
having all your team's kahoots at hand;
saving time on preparing for your training session, presentation or team meeting, because you can do it on the go!
getting instant access to game reports to monitor progress, assess knowledge retention and plan your next kahoot;
being able to fire up an impromptu quiz and have some fun with your colleagues!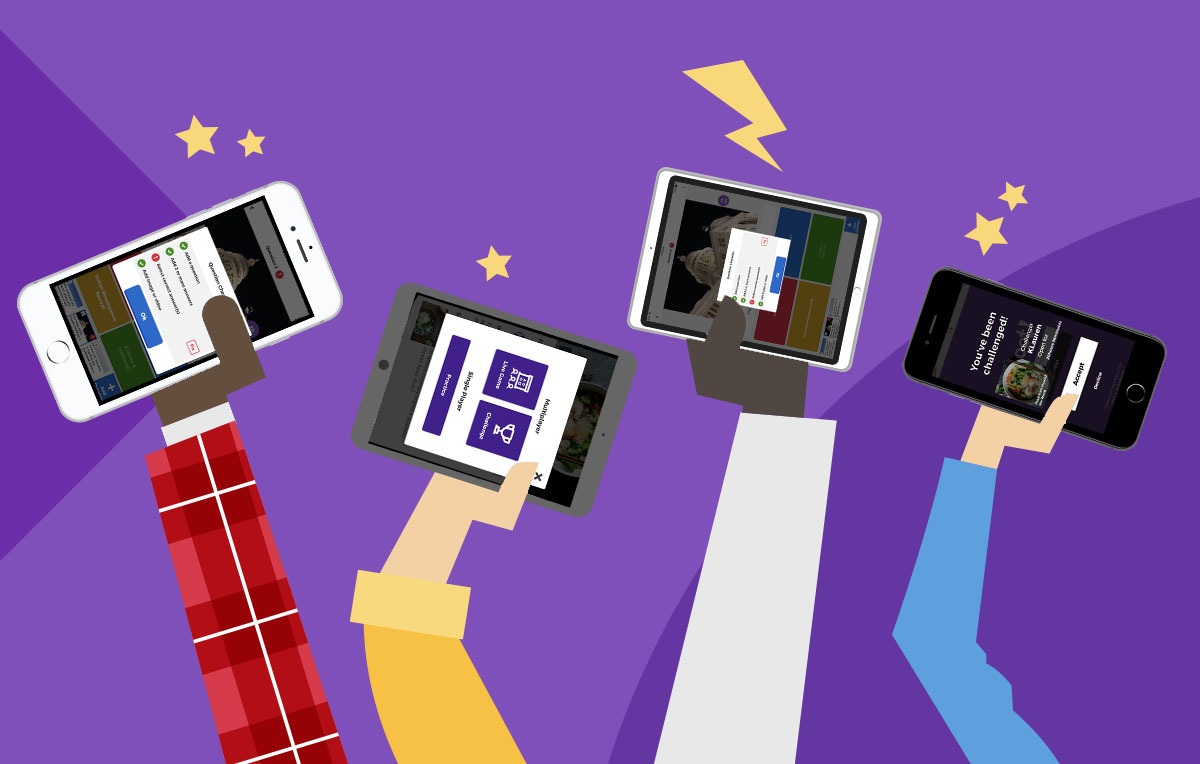 Learn more about the app's hero features:
NEW: Create kahoots on the go
Now, you can create a new kahoot in minutes on your mobile device. You can do it on your commute, during a break in your training session or even the very last minute before a presentation or meeting. Just tap Create in the navigation bar of the app and get creating! You can snap photos with your camera or use existing ones, which also saves a lot of time on creation.
NEW: Add a kahoot to your team space
By changing your kahoot's visibility settings, you can either keep it private in My Kahoots or add to your team space. Once it's shared with your team, other members can edit it and contribute, too! This works great for collaborating with other trainers, for example.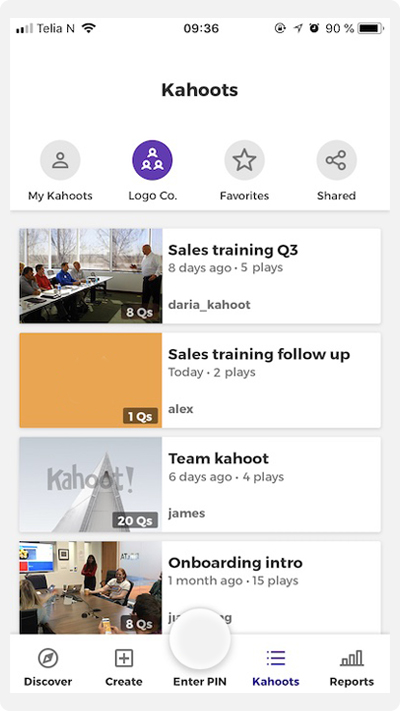 NEW: Edit your team's kahoots
As we mentioned above, you can edit your team's kahoots in the app as well. To access your team space, tap Kahoots in the navigation bar, then your team's name above the list. Open a kahoot you'd like to edit and tap on the pencil icon. Changes you make will be visible to all other team members.
NEW: Game reports at your fingertips
To get valuable insights from kahoot reports, you don't even need your computer. In our app, log in and tap Reports in the navigation bar. Switch between reports on your personal games (My reports) or your team's games (tap on your company's name), find the one you're interested in and dive into stats!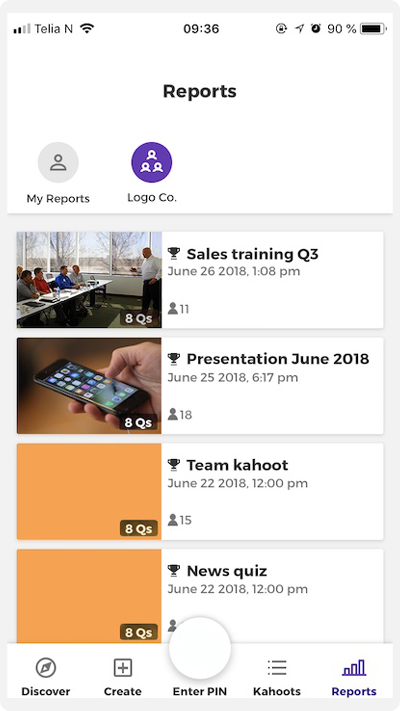 Send challenges for remote training
This feature is classic, but totally deserves to be in the spotlight! In addition to live games, you can also send kahoots as challenges – for example, to facilitate remote or virtual training. Participants play them in the app and you can track their progress in real time. Read more about challenges and how they help in a business setting.
Enjoy the best of Kahoot!'ing on the go – download our app! Not on Kahoot! for businesses yet? Sign up or upgrade to unlock the premium features!