When EduHeroes put their creative minds together, making learning awesome gets even more impactful!
In our recent survey, 75% of teachers said that 10 or more educators use Kahoot! in their school. The survey also revealed that 60% of teachers already collaborate with their colleagues on kahoots, creating games together. Talking to our community, we heard from many teachers that the ability to co-create and reuse each other's games would really power up their experience and save precious time. We listened, learned and made it happen!
We're introducing Kahoot! Pro for schools – our new offering for teachers and school admins that gives you access to advanced features for collaboration, saving time and increasing productivity.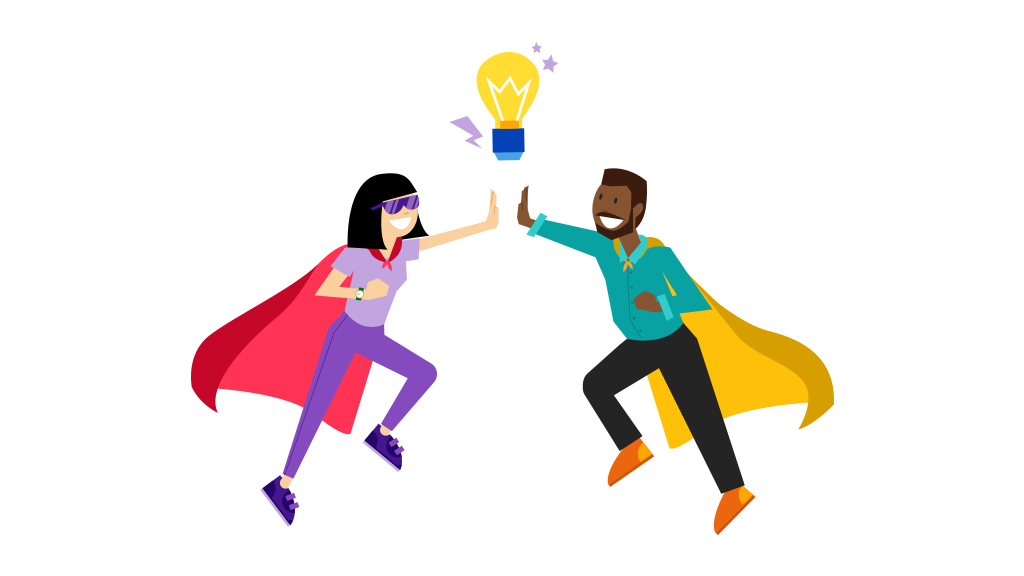 What superpowers does Kahoot! Pro for schools unlock?
Collaboration between teachers, as well as between teachers and admins, content and data sharing, saving time on finding and creating games and advanced reporting are the main focus areas of Kahoot! Pro for schools. It unlocks the following superpowers:
Collaboration
Co-create, edit and share learning games together with other teachers in your school's private team space.
Saving time
Your team space serves as a shared kahoot bank that current and future teachers can access, saving precious time on finding relevant learning games.
Advanced game creation tools
Save time creating high quality kahoots and increase student engagement by using our built-in image library with millions of images. In our tests, it helped to create kahoots 3 times faster on average, compared to uploading images manually.
Detailed reporting
Track student progress, step up formative assessment and improve learning outcomes with detailed, visual reports that can be shared between educators and admins.
Engage admins
Invite school admins to your team to share kahoots and reports with them.
Customization with school logo
Boost school spirit and student engagement by having your school's logo or mascot in all kahoots.
More coming soon!
Just to tease you: we soon plan to add team folders to Kahoot! Pro for schools, as well as introduce advanced certification for professional development. Stay tuned!
Our promise: Kahoot! is free for K-12 teachers
Kahoot! Pro for schools complements our existing free product. Kahoot! with all its features that you know and love is still free for K-12 teachers and students, and it's our commitment to keep it this way. We plan to continue improving Kahoot! as part of our mission to make learning awesome. Just in time for back to school, we rolled out a completely new design, added a spreadsheet import feature that was a popular request from our community, and launched our free, online certification program for teachers.
Pricing
We know that budgets are a challenge for many, so we've made the price for Kahoot! Pro for schools as inclusive and affordable as possible, thanks to thousands of businesses using Kahoot!
We recommend to invite more teachers to your team to get the most of the collaboration superpowers in Kahoot! Pro for schools. For teams of 20+ teachers, Kahoot! Pro for schools includes support of a customer success coach.

Next steps
You can start with Kahoot! Pro for schools on your own and invite or join other teachers later, or you can get on board together with your team right away. You can also continue using the free version as an individual K-12 teacher and upgrade to Kahoot! Pro for schools anytime in the future. The choice is yours!
Let's make learning awesome together!