'Tis the season to host office parties – and this year they're going virtual! With Kahoot!, you can easily plan, create, and host a fun-filled virtual office party that connects colleagues – wherever they're located. 
Here's how! 
Plan an awesome event with brainstorm 
How can I host a virtual office party that's fun for everyone? It's a question that many HR professionals are asking themselves this festive season – and brainstorm is here to help!  
Not only is Kahoot! a great way to entertain and engage colleagues during the virtual party, it's also a top tool for planning any kind of event. Simply invite the party planning committee to a video call, share your screen, and use the brainstorm question type to collect, discuss, and vote on ideas. 
Here's how brainstorm works:
Ask a question (e.g., What should be the virtual party theme?)

Each participant submits up to three ideas (e.g., Everyone wears an ugly holiday sweater, everyone should have a festive Zoom background, let's make it fancy dress)

You then discuss the ideas as a group

Participants vote on their favorite ideas, and the top three ideas get points
It's a quick and easy way to identify the best ideas. Plus, it gives everyone a voice, meaning all participants feel involved in the planning process. Besides brainstorm, you can use word clouds and polls to determine the event date and start time. 
Anyone with a kahoot account – regardless of their subscription – can try brainstorm today! Play this free party planning kahoot that features brainstorms, word clouds, and polls. Start planning your virtual office party!
Create a fun-filled kahoot in minutes
Ready to get creative? From general knowledge and movie trivia to company milestones – you can create a kahoot on any topic in minutes. At your fingertips are easy-to-use interactive question types and media options, such as a premium image library that includes millions of pictures for any occasion.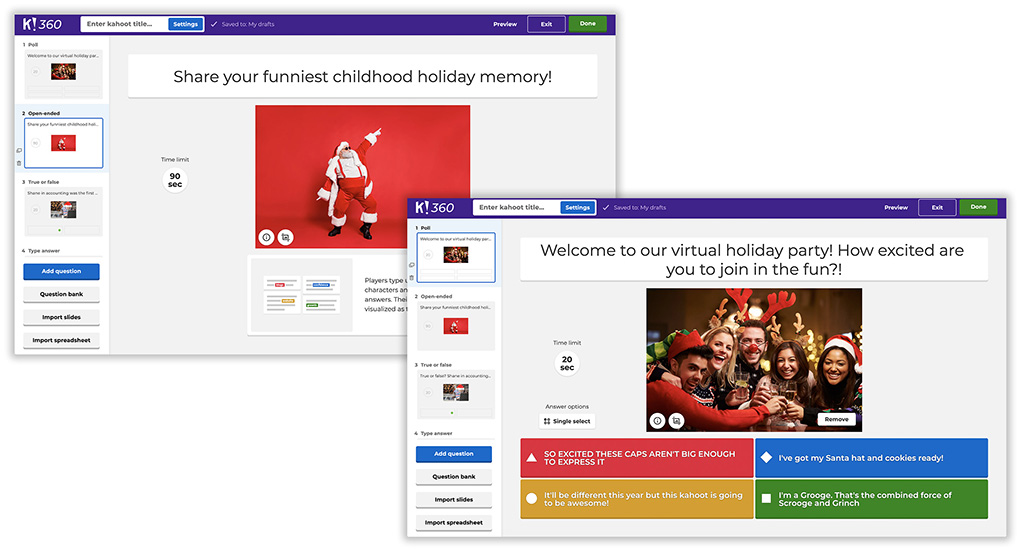 Every question type is designed to boost engagement and increase focus in a fun and unique way. For example:
Get started with

quiz

, the classic multiple-choice question type. Offer extra points by selecting more than one correct answer with

multi-select. 

Use

images as answers

to add visual elements to

quiz

questions.

Add some quickfire

true/false

questions to keep everyone on their toes.

Ask players to sort four tiles into the correct order with

puzzle

. Perfect for arranging dates of newsworthy events, for example.

 

Include

type answers

– where participants type an answer of up to 20 characters – to remove guesswork.

Spark lively discussions with

polls

and

word clouds.

 

Use

slides

to provide more context or clues for future answers.
Kahoot! pro tip: The more question types you include in your kahoot, the better the user experience! 
No time to create a kahoot? No problem! Log in and head to the discover page, where millions of ready-to-play kahoots can be found, including these trivia kahoots. You can host kahoots with up to 10 players without a paid subscription. 
Create a tournament!
Dial up the fun with Kahoot! 360 and create a new level of friendly competition with an easy-to-create kahoot tournament! Just host several kahoots with the player identifier feature switched on. Then, combine the reports from every kahoot to reveal the tournament podium! 
Kahoot! pro tip: Incentivize your colleagues with prizes. Award prizes for those who win individual kahoots, and save the big prize for the tournament winner. It's a surefire way to boost engagement! 
Host via any video conference platform 
Kahoot! is compatible with every video conference platform. Simply invite everyone to a call on your preferred tool, and share your screen so everyone can join the fun. Check out our guide to hosting kahoots via Zoom and Google Hangouts. 
For an even smoother experience, use our free integration with Microsoft Teams. You can host and play kahoots directly in the Teams platform, saving you time and ensuring participants stay engaged and energized. 
Kahoot! pro tip: Encourage attendees to have their webcams and microphones switched on so they can interact throughout the kahoot. 
And there you have it: An easy way to plan, create, and host fun and engaging virtual office parties! Start planning and creating your event today and discover how hosting virtual kahoots brings remote colleagues together.