Reunited with our teacher community for our first in-person event in years
Thank you to everyone who came to visit our booth during ISTE 2022 in New Orleans! We had a blast playing and learning with 16,000 of you throughout the week during our educational sessions, live demos, ISTE bingo, and showing off your podium poses and victory dance moves under the Kahoot! disco ball! Shoutout to the 1,618 presenters at ISTE that took the stage (or Podium!) to share how teachers and communities can support students around the world! It made us so happy to see teachers stocking up on Kahoot! swag for their prize drawer for back-to-school fun (and maybe some disco socks for themselves!). A few lucky teachers even got to take a picture with the latest addition to the Kahoot! K!rew, Chuck the Woodchuck! Of course, a big thank you also goes out to those of you who were #NotAtISTE getting in on the fun by following along at home with our live-streamed events and Trivia Drops on Twitter!
Our rockstar teacher ambassadors
Events like ISTE are where we get to meet and collaborate with teachers to understand how they are using Kahoot! in their classrooms and how we can better support them. This year, we're proud to say that it has come full circle with our teacher ambassadors hosting their own sessions at our booth and educating their fellow teachers on new and unique ways to engage their class and get their students excited about learning. In these Teacher Takeover sessions, our ambassadors shared their tips for getting the most out of Kahoot!, including hosting hacks, interactive presentations, student-created kahoots, and how to do more with features like slides, audio questions, and our math symbol editor!
If you're interested in finding out how you can become one of our ambassadors you can visit our Kahoot! Ambassadors page to learn more and apply!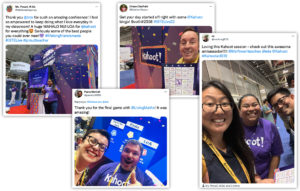 Hot off the ISTE press
With over 45 sessions presented by our teacher ambassadors, ed tech partners, and our very own Kahoot! experts, three days of ISTE flew by! We had a jam-packed schedule filled with announcements of our latest features, new game modes, and integrations to make Kahoot! a seamless teaching and learning experience. In case you missed it, here are just some of the things that have launched or are coming soon for back to school!
New

Slider

and Drop-pin question types give teachers a new way to engage with their students by allowing them to answer questions with a number on a scale or by dropping a pin on an image of your choice!

Our Quiz, Poll,  and Multi-select question types now have the ability to add 6 possible answers instead of only 4

Beta testing begins on

new game modes

with a release coming soon!

Google for Education announced the new

Kahoot! add-on for Google Classroom

launching this fall!
Partner power
Learning is always better together, which is why we were thrilled to share our booth with our partners, Dragonbox, Storm, and Whiteboard.fi, and to have a connecting booth with our friends over at Clever! Together we presented not only the power of each individual platform but our upcoming plans to be even more connected by making all of these tools available in one location to better equip teachers for digital classroom instruction!
Thank you to everyone who was a part of our ISTE 2022 experience for all of your energy and enthusiasm! We can't wait to do it all over again and see our awesome teacher community in Philadelphia for ISTE 2023!
If you have any pictures from our booth or feedback you'd like to share with us to make ISTE 2023 even more awesome, let us know on Twitter!