Creating your own kahoots is tons of fun! Topic, structure, type of questions, images and video – it's all up to you: the storyteller, the researcher, the game designer.
Whether you've already created dozens of games, or are just starting this exciting journey this year, check out these tips to stay in full control of your growing kahoot collection at all times! These simple features and work hacks will help you organize your kahoots better, no matter how many of them you have, and will ensure you always find the one you need in seconds.
Come up with a naming convention
Give your kahoots descriptive names that make it easier to find them using certain keywords later. Also, you can come up with a naming convention that would help you group kahoots of a specific type. For example, put the name of the learning unit or course in the kahoot title, or maybe the chapter this kahoot covers, type of game (intro, review, etc.).
Search across all your kahoots
When you navigate to My Kahoots, Favorites, Shared with me or your team space (this feature is available in Kahoot! for schools and Kahoot! for businesses), you'll see a search field above your kahoots. Type in a keyword or a phrase to search across ALL your kahoot lists and folders! You'll see some autosuggestions right as you type, or you can see all results after you hit Enter. That's where the naming convention from the first tip comes in especially handy!
Switch from card to list view
Switching from visual card view to more compact list view will make a long list of kahoots much easier to scan. Just click this icon

 above your kahoot list to change the view.
Remember you can also use the default function in your browser to search mentions of a specific word or phrase on a page. Hit Ctrl+F on Windows or Command+F on Mac OS to bring up the Find bar and type your search word in it to find all instances on the page.
Favorite selected kahoots
The favorite feature gives you an easy way to "save" other users' kahoots you find on our platform. In addition to that, you can also "star" your own kahoots that you'd like to keep at your fingertips.
Organize kahoots into folders
Here's a new time saver hot off the press – a perfect way to kick off a clutter free 2019! With our recently launched folder feature in Kahoot! for schools and Kahoot! for businesses, you can structure your kahoots by subject, topic, department, or any other criteria. Upgrade to Kahoot! for schools or Kahoot! for businesses to unlock this feature both for your personal kahoots and ones you co-create with your colleagues.

Pin your most important folders to the sidebar
To keep select folders always at hand, you can pin them to the sidebar. That's what it looks like when you've pinned some folders: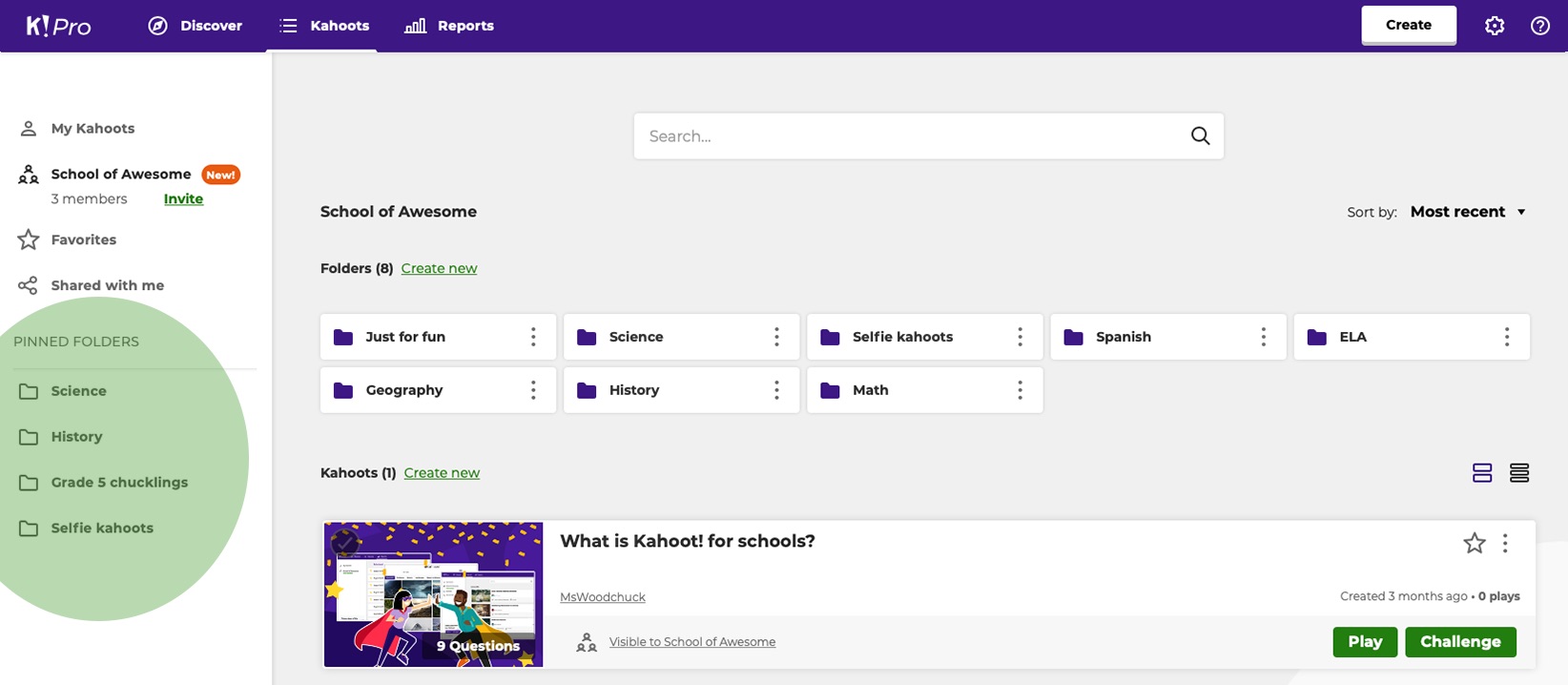 To get a folder up there, click the three dots next to a folder's name and select Pin to sidebar from the dropdown. To use this feature, you'll need to upgrade to Kahoot! for schools, if you're a teacher, or one of our plans for businesses if you use Kahoot! in a company setting.
Have fun creating kahoots! The more you create – the merrier 🙂