We're all looking forward to the upcoming holidays! Although this holiday season and festivities may look different due to social distancing precautions and travel limitations, that doesn't mean we can't share the joy of celebrating with our families and friends.
To help you plan safe and fun activities during the holiday season, we've put together several Kahoot! tips that will work great both in an in-person and virtual setting.
Create a themed kahoot together with your family
Creating a kahoot is simple and fun – and also makes a great family activity. To get started, all you need is to register for a free Kahoot! account. Sit down together to brainstorm questions and make sure to add images to create a festive mood! With a Kahoot!+ subscription, you can unlock more question types, for example, polls and word clouds, and game options, such as images as answer alternatives – perfect for playing with younger kids! Learn more about Kahoot!+ and get started today! We're offering a free trial.
Choose festive kahoots for your celebration
If you're short on time, you can choose from millions of ready-to-use kahoots for your event. The Discover section on Kahoot! is a great starting point for your search. Click the star in the kahoot description to save it for later in your Favorites list. We'd recommend selecting several kahoots as time flies when you're playing Kahoot!
Kahoot! Academy, our knowledge platform and global educator community, offers ready-to-play kahoots created by educators and partners on a wide range of topics, for all ages. Check these collections and filter them by topic/subject or language to find relevant games!
Start your own league to compete over the holiday season
A holiday season means fun should last over several weeks! Within the Kahoot! app, you can create a league and invite your friends or family to compete in it. A league is a virtual group where you can invite other people, add kahoots, and follow a joint scoreboard as members are completing games. Add as many kahoots as you'd like, and find out who the quiz champion is! This feature is available for free for students and anyone with an account for personal use.
You can create a new league from the app home screen. To add kahoots for league members to play, tap Add league game, choose a relevant kahoot, then hit Play and choose League game. Let the competition begin!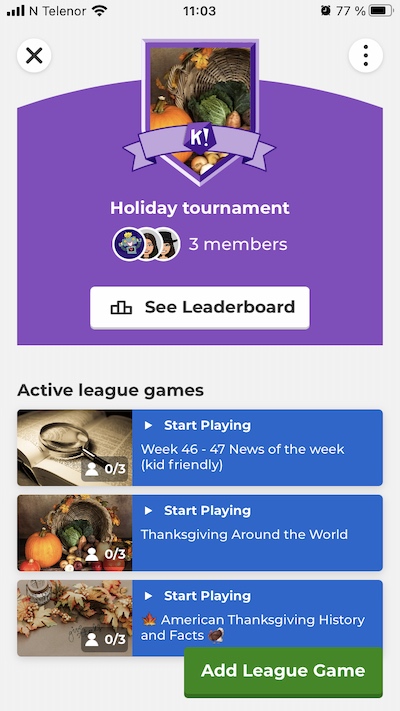 Send a Kahoot! challenge as a holiday greeting
Send a Kahoot! challenge as a creative take on a holiday card, or use it as an invitation to your in-person or virtual event. Anyone can play on their own devices whenever they'd like! Here's how it works:
Choose a kahoot, click Play and Assign
Set a deadline for this game
Hit Create
Copy the game PIN or link and share it with your friends – for example, via your social media profile or a messenger app
They play on their own devices, and you can see the leaderboard!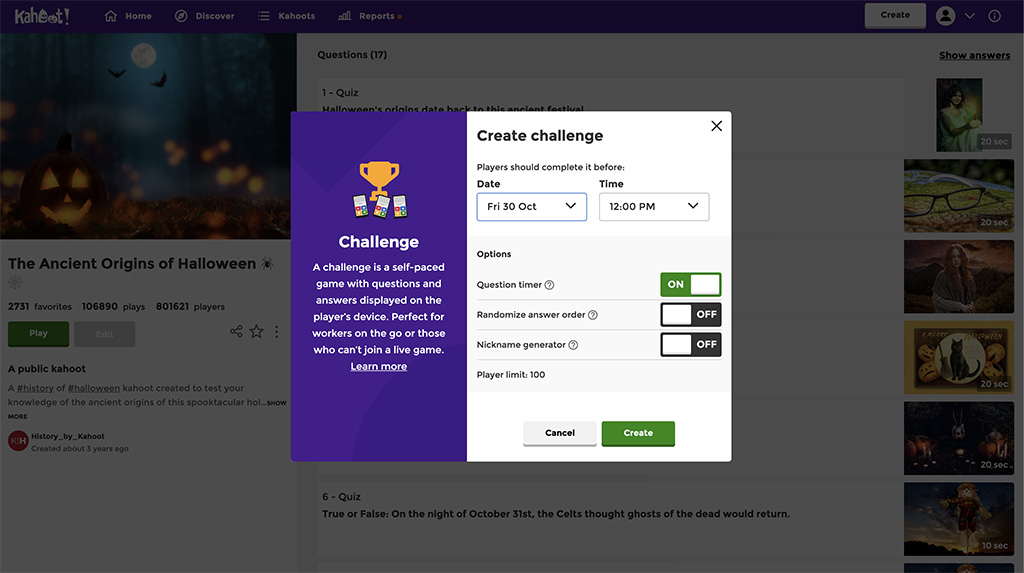 Connect via video conferencing and host a kahoot remotely
Start a video conference and connect with your friends and families no matter where they are! To host a kahoot remotely, follow these instructions:
Start your video conference and make sure everyone has joined
In your browser, click Play and Host to launch the kahoot, so the lobby is showing with the game PIN
Share your screen, so those joining remotely can all see the game PIN
Players will need to use their mobile devices to join the game, either via the Kahoot! app or kahoot.it in their browser
Host the kahoot as usual, taking care to not speak over the music that plays during the timer countdown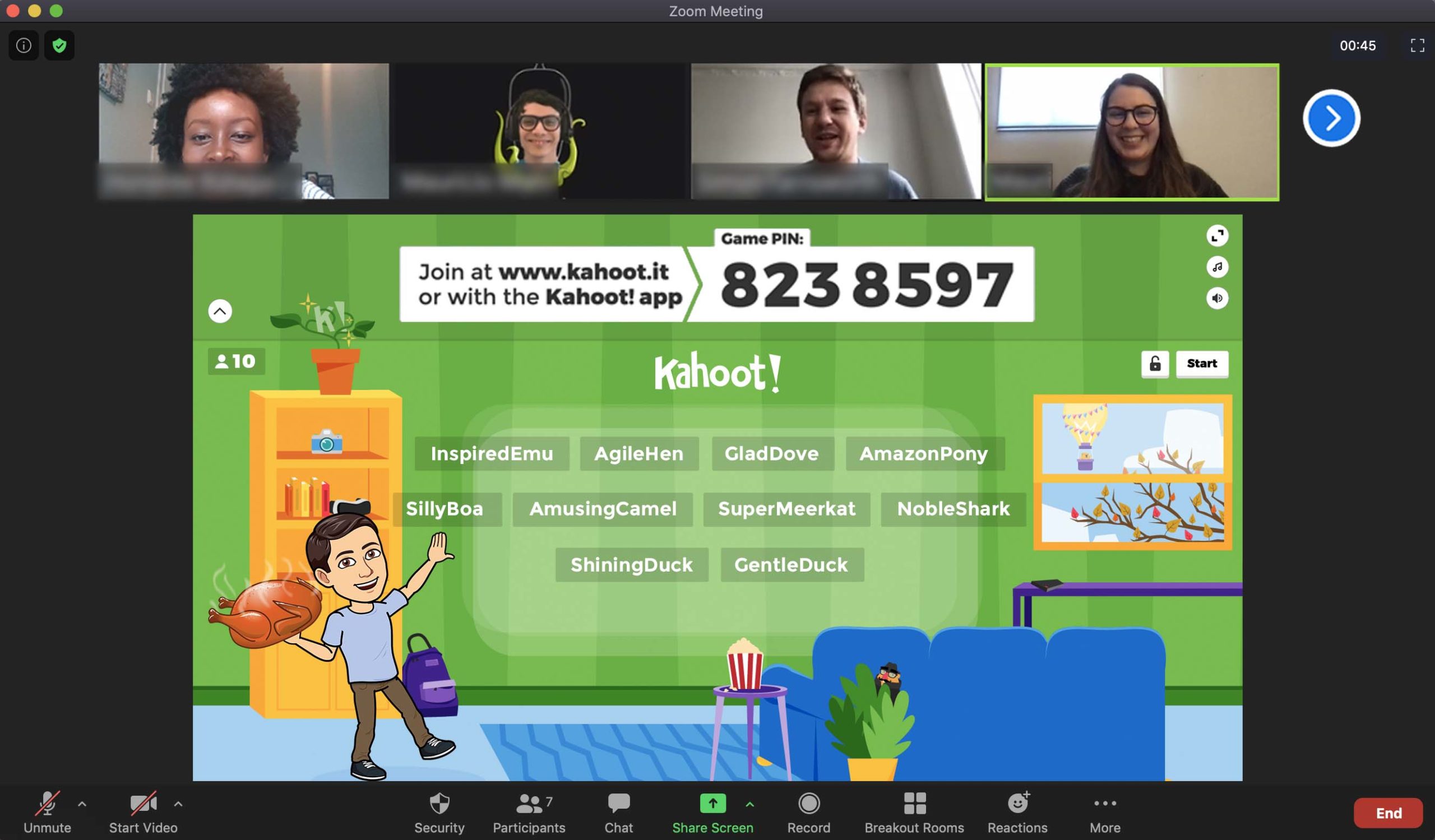 Here are more detailed instructions for hosting a kahoot via the following video conferencing tools: Google Meet, Zoom, Skype, and Microsoft Teams.
By the way, did you know that you can also add your Bitmoji and have it show up in your live kahoot with a teacher or personal use account? Check out this blog post to find out how!
Compete in teams with other families or friend groups
If you're connecting with several families or friend groups, you can compete with each other in team mode. After you click Play and Host, choose Team mode in the game options. Then, each household can use one device to answer the questions.
Happy holidays! What are you planning for fall and winter celebrations this year? Share your ideas with our community on Twitter!