Student-centered learning starts with teachers
At our second annual Kahoot! EDU Fall Meetup we were thrilled to connect with teachers, admins, and Kahoot! Ambassadors for teacher-led conversations around student-centered learning! We invited teachers to help us share our latest developments, introduced them to the creator economy built within Kahoot!'s marketplace, and turned the spotlight on our partners at Clever and Whiteboard.fi to share their news of expansion and evolution!
If you weren't able to tune in, want a recap from the sessions, or just want to replay any of our K!offee kahoots, read on and visit the Kahoot! EDU Fall Meetup event page where you can watch each session on-demand!
New ways to play: Our latest features for back to school Presented by: Steve Sherman, Kahoot! teacher ambassador and Padraic Woods, Director of Product at Kahoot!
It's an exciting time here at Kahoot! with so many new features to try out! Steve Sherman together with Kahoot! introduced and demonstrated our new question types: 6 answer options, slider, drop pin, and… NEW game modes! We were lucky to have Steve's infectious energy as he hosted a record-setting game of Color Kingdoms yesterday during this session! Since launching less than a month ago, this was the first internationally attended game with over 280 players! Each answering questions to get their flags and claim their land tiles to spread their color across the gameboard. Check out Steve's tips for using new game modes with your class!

Want to try our new features in your classroom? Right now, you can get all these features with Kahoot!+ Premier.
Student passes: Engage students through play and creation, presented by: Alex Remen, Director of Product at Kahoot!
Another highly requested feature from teachers is student passes, which allows students to make their own kahoots. Alex introduced us to this amazing new feature, allowing students to be the host of their own learning experiences! Simply by sharing a QR code or a link, teachers will be able to give their students access to the full functionality of the Kahoot! creator, award-winning learning apps from Dragonbox, and premium Kahoot! features including exclusive question types and creation tools. After speaking with educators this spring, we learned that "70% of teachers say their students are more engaged in learning and are more likely to retain the knowledge when they are actively involved and can choose how they learn based on their interests." With learning gaps growing bigger, we hope that student passes will be a helpful tool to bring student-centered learning to your classroom. 
Student passes are coming soon and will be available with Kahoot! EDU and Kahoot!+ Max
K!offee kahoots hosted by teacher ambassadors: Monika Khan, Gina Ruffcorn, and Chase Chatfield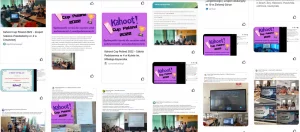 From classrooms to full-scale national events with over 1000 players, our Kahoot! ambassadors showed us that student-created kahoots are making waves while teaching their students 21st-century skills! During our ambassador-led sessions they shared tips and tricks for getting students to create kahoots as well as learnings from the process. These include tech literacy, strategies for problem-solving, teamwork, time management, and how to create conversation with their kahoots. They even explored the ever-controversial question of how long the question timer should be set for!

Play our Kahoot! ambassador's K!offee kahoots to learn more about how you can introduce student-created kahoots in your classroom!
Student-centered learning with Kahoot! through an Administrator's lens, presented by: Aspen Davis, Kahoot! EDU Admin at HSID
Aspen Davis isn't just a Kahoot! EDU admin. She also wears the important hats of an Academic Instructional Technologist for the Houston Independent School District, a Radiant Rucker Roadrunner and a mother. With all of these roles in mind, Aspen paves the way in making academics fun for both her own daughter and school scholars like herself! She proudly uses Kahoot! in every aspect of her job and at home! From introducing it to all her teachers, to hosting professional development sessions, and even using Kahoot! at home with her daughter, at family events, and at holiday gatherings. Mrs. Davis is the embodiment of Kahoot!'s values of playfulness, curiosity, and inclusivity.
Watch her session to learn more about the benefits of Kahoot! from an administrator's perspective, and don't forget to follow @GoMrsDavis on Twitter and check out her Kahoot! profile!
Kahoot!'s marketplace is open! Learn how to become a marketplace creator, presented by: Agnete Tøien Pedersen, VP of Kahoot! Academy,  Louisa Rosenheck, Director of Pedagogy at Kahoot!, and Amanda Taselaar, Product Marketing Manager for Kahoot! Academy
The Kahoot! Academy team has been working hard to bring educators high-quality learning resources from a community of Verified creators & publishers. Now, after a long time in development, the Kahoot! Marketplace is finally open! This all-new Marketplace helps to bring a creator economy to the Kahoot! platform,  giving teachers the opportunity to monetize content! During the EDU Fall Meetup, the Academy team showed us the simple steps to becoming a creator, best practices for creating marketplace content, and finally how to create and list your content on the Kahoot! Marketplace!
Introducing a new topic with Kahoot!, presented by: Sydney Jones, Senior Customer Success Specialist at Kahoot!
Discussing just one of the many ways to use Kahoot! in your classroom, Sydney talked about tips for using Kahoot! to introduce new topics to your students. Introducing content via Kahoot! tools provides an extra piece of engagement for teachers to spark student curiosity, while also keeping curriculum accessible and relevant. Sydney also explored Kahoot! reports, sharing evaluative tools for teachers to consult to drive instruction and inform assessment! 
Want to learn more about how you can introduce new topics with Kahoot!? Check out Sydney's presentation and watch the recording of her session on the Kahoot! EDU Fall Meetup event page!
Next level formative assessment with the new Whiteboard.fi version, presented by: Sebastian Laxell, CEO of Whiteboard.fi
Do you have superpowers? Or is it just Whiteboard.fi? Sebastian asked everyone at the EDU Fall Meetup to imagine what it would be like if you could read your students' minds as soon as you ask a question or start an in-class activity. The answer is a powerful tool for formative assessment that gives you instant feedback from your students, allows you to focus your help where it's needed, and lets even the quietest students show you what they know! With loads of new features and huge improvements made to existing ones, this is a tool that you have to try in your classroom!
From now until the end of September, you can sign up to try all the latest features at beta.whiteboard.fi and get a 25% discount on all plans!
Collaborative digital classrooms in Clever, presented by: Blair Mishleau, Senior Customer Education Program Manager at Clever
With 70% of US K-12 schools using Clever and their recent move into Canada, Blair shared Clever's expansion plans to start launching pilots in the United Kingdom and Australia, and the opportunity to use Clever internationally with self-support. If you're interested in bringing Clever to your school, wherever in the world you might be, all you need to do is share this sign-up link for new districts with your school's IT team so they can sign-up to learn more! If your district is using Clever, you can start your Clever Champion journey with this quiz to get more out of this awesome digital tool!
Thank you!
From all of us at Kahoot!, thank you to all of our teacher ambassadors and our awesome educator community who continue to inspire us with your incredible support! We hope you enjoyed this event and we're excited to see you again at the next one! 
Don't forget to send us your #KahootEDUMeetup selfies on Twitter @Kahoot!