It's easy to get lost under all the lesson plans and homework assignments while trying to balance keeping up with the curriculum and engaging with your kids in virtual classrooms. Kahoot! is a great tool for checking in with your students in today's constantly changing learning environment, but it's also a supportive tool that allows you to check-in with yourself and other teachers in your community. With all the school closures and uncertainty, being a teacher requires more than ever before, so lighten your load with these healthy habits!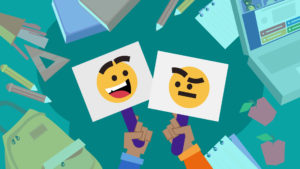 1. Lean on existing resources
Keeping subjects fresh and interesting with new students year after year is one of the most challenging aspects of being a teacher. You don't want to keep re-using the same lesson plan over and over again, but starting from scratch isn't practical or a good use of your time. Instead, there are lots of great resources available online, but how do you find the right tools for what you need? With a free Kahoot! Basic plan, you can immediately start searching through pre-made kahoots on our discover page, and even use the filter function to search by grade level, subject, creators, and language!
2. Take a breath mid-lesson with pulse-checks
Understanding how your students are doing is more difficult than ever with schools constantly switching between virtual, in-person, and hybrid classrooms. When asking a question on a video call with 20+ students turns into an unmuting disaster, it's time to find better tools to get instant feedback from your class. From simply creating content-specific quizzes to integrating lessons into kahoots with Slides, there are so many ways you can use Kahoot! to 'pulse-check' your students and get real-time thoughts from everyone in the class! Great for assessing your students' understanding before and after teaching a new topic or even just checking in on their overall wellbeing with the social and emotional learning collection (SEL) by Kahoot! Academy.
3. Collaborate with other teachers in your school and district
Everything is better when we're together and teaching is no exception! While contact with colleagues might be limited, continuing to share your successes and improvements with others will help you learn from each other and make you feel more confident in your own classroom, physical or virtual. One great way to do this is to share resources with other teachers. With Kahoot! EDU every teacher in your school or district can collaborate on content libraries within private team spaces that allow everyone to work together and share fresh Kahoot! content. With Slides and Courses, this content can be used to teach full class sessions which means that your lessons plans can be entirely collaborative. You even have access to more in-depth and personal responses with open-ended questions available only to Kahoot! EDU subscribers.
4. Schedule in-class activities
Taking productive breaks from teaching in class gives you and your students a chance to re-focus and concentrate on the lesson. Students can use this time to review class content that they may be struggling with while you set up for what's coming up next in your lesson plan. Assigning student-paced kahoots provides opportunities for students to revisit lesson content from a new perspective. You can do this with ready-made kahoots from Kahoot! Academy's Verified educators or, if you use kahoots in your lesson, new kahoots can be generated from any difficult questions that students answered incorrectly. Not only can you assign these kahoots for in-class activities but you can also have them be completed as homework and check on the results in Reports. 
5. Ask students to create and present a kahoot to the class
Empower your students to take ownership of what they are learning. Giving them the opportunity and the creative tools to pick a relevant topic that they are interested in is the best way to engage them in independent or collaborative research and creation. Using the Kahoot! app, students can create and host kahoots anywhere, anytime. They can be quick in-class activities or more in-depth assignments. Having students take control of their learning is part of Kahoot!'s learners to leaders pedagogy and is the foundation of our mission to make learning awesome!
6. Have fun with your class
Sometimes leaving the lesson behind for unrelated fun can be a great way to bond with your class. Hybrid learning has come with many benefits and challenges but it's been a big change for everyone, so blowing off a little steam is more important than ever. Choosing a fun topic that you think your class will enjoy, or creating your own kahoot personalized to your class is an opportunity to develop deeper connections. With Team mode, students can play together whether they are at home with their personal devices or sharing a device in the classroom. Encouraging collaboration even when students are separated is a powerful tool for both learning collaboratively and having fun together. 
Have your own healthy habits you want to share with us?
Let us know on Twitter! We hope these tips have helped spark some new ideas for how you can make the best of hybrid learning!