1. Keep everyone engaged with brainstorm
In December 2020, we launched brainstorm – a digitized way for teams to collect, discuss, and vote on ideas. Simply ask a question that kick-starts a discussion, and participants submit up to three ideas. When the ideas appear on the shared screen, you can discuss and group similar topics before the participants individually vote for their favorites. It's a structured, engaging way to share knowledge, quickly surface problem-solving ideas, and give everyone a voice in a virtual or in-person setting. Try a brainstorm for free with this ready-made kahoot. Start brainstorming.
2. Deliver on-the-go learning with courses
Kahoot! Courses empower employees to learn in the flow of work. Link a series of self-paced challenges to create a course, assign it via email, send reminders to boost completion rates, and track progress in a detailed report. Participants complete the course anywhere, anytime – on desktop or mobile. It's a flexible solution to ensure employees' training and development stays on track – no matter their location.
3. Create interactive presentations that everyone remembers
With the shift to remote work in 2020, finding ways to engage employees was more important than ever. That's what led us to develop a range of interactive presentation features. You can now import slides directly into a kahoot and add audience interaction features like polls, brainstorms, and open-ended questions to keep everyone focused and involved during virtual meetings. The slide importer supports .ppt (PowerPoint), PDF (you can export Google Slides as PDFs), and .key (Keynote).
4. Get actionable insights with all-new Kahoot! reports
In May 2020, we completely reimagined Kahoot! reports. The detailed report dashboard makes it easier to identify the player behind the nickname, spot knowledge gaps, and track progress for courses, live kahoots, and self-paced challenges. What's more, you can track participation and completion rates – all in one easy-to-navigate report. You can also combine multiple reports and download and share reports with relevant stakeholders.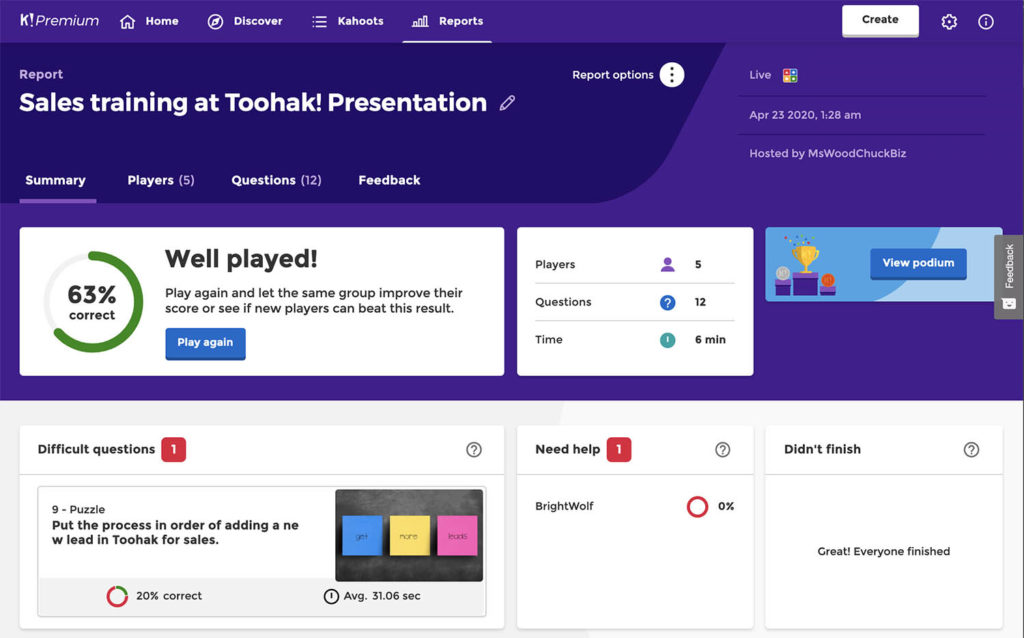 5. Seamless integration with Microsoft Teams
It's easy to host kahoots on any video conferencing platform: Just share your screen, and the participants can join the kahoot. It's a fantastic way to boost engagement in a virtual setting as well as bring remote colleagues together. Thanks to our integration with Microsoft Teams, you don't even have to leave the Teams platform to host or play a kahoot. You can host live kahoots or assign self-paced challenges directly in Teams for colleagues to complete at a time that suits them best. With self-paced challenges, reminders and the final podium are also posted in your Teams channel. It's a great way to keep training on track.
6. Collaboration made easy with Groups
Kahoot! brings people and knowledge together, so we wanted to make it easier for our community to share high-quality kahoots. In July 2020, we launched Groups to provide greater flexibility for sharing and collaborating. Any Kahoot! user can set up a group and invite individuals of their choosing – from within their organization or from an external group. Members of the group can then build curated banks of tailored content (e.g., for different business areas or specific training topics) – saving time and ensuring relevant resources find the right hosts.
7. Easily manage large-scale Kahoot! usage
In November 2020, we introduced new tiers of user roles to help admins manage large-scale Kahoot! usage. A Kahoot! account owner can now add multiple admins to manage the day-to-day running of the account – with the designated owner staying in control of the billing. The new granular user roles enable L&D professionals and HR managers to easily and securely manage Kahoot! without waiting for support from the IT department, which is perfect for corporate learning at scale.
8. Stream the Kahoot! WorkSummit on demand
The inaugural Kahoot! WorkSummit took place on November 12, 2020. The free virtual event connected a global audience with the latest thinking on corporate learning. Professionals from over 140 countries signed up to hear from thought leaders and guest speakers from the likes of LinkedIn and Microsoft. The Kahoot! team also demoed our latest features and integrations. You can watch every session on demand for free.
9. Catch up with our webinar series
As well as the Kahoot! WorkSummit, we also hosted a popular webinar series that explored key workplace trends and demoed the latest Kahoot! features. Stream every webinar on demand to hear from special guests, and discover how to ace training, presentations, events, and more. The webinar series will return in 2021 with more insightful content. Stay tuned!
10. Get inspired with our customer stories
Throughout 2020, we interviewed several members of our community to see how Kahoot! was helping companies of all sizes adjust and thrive during the COVID-19 pandemic. With our customer stories, you'll discover how companies in a number of industries use Kahoot! to boost engagement and results in everything from virtual events and training sessions to remote onboarding programs and meetings. Check out our customer's stories.
It's safe to say that 2020 was a busy year for the Kahoot! team – and even more great features are on their way in 2021! Sign up to a Kahoot! 360 Pro account to access every feature mentioned in this article. Buy now.